William Raspberry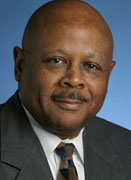 Urban Affairs Columnist for the Washington Post
William Raspberry's intellect and warmly personal writing style have attracted a legion of admiring readers to his commentary on social and political issues. In 1997, Raspberry was named one of the top 50 most influential journalists in the national press corps by Washingtonian. "Raspberry is among but a handful of journalists (with) the power to introduce new ideas and give them currency," the magazine said.
Raspberry's column first ran in 1966 in the local section of The Washington Post. In 1971, his column was moved to the paper's op-ed page. Raspberry continued to comment on issues of education, crime, justice, drug abuse and housing, but added a national dimension. Demand by newspaper editors to buy his column resulted in its syndication by The Washington Post Writers Group in 1977. Raspberry's commentary now appears in 225 newspapers. It often addresses the latest ideas and proposals for answers to social dilemmas: "I don't enjoy celebrating problems. I talk about problems with a view to inching toward solutions," he says.
Raspberry grew up in the small Mississippi town of Okolona, which he likens to the one in "To Kill a Mockingbird." "We had two of everything there," he remembers, "one for whites and one for blacks." He followed a preministerial curriculum at Indiana Central College and graduated with a B.S. in History in 1960. His newspaper career began with a summer job at the Indianapolis Recorder in 1956. His duties there as reporter, photographer and editor inspired him to join The Washington Post in 1962, after serving two years in the Army. At The Post, he was hired as a teletype operator, and quickly advanced to general assignment reporter, copy editor and assistant city editor.
His coverage of the 1965 Watts riot in Los Angeles earned him the Capital Press Club's "Journalist of the Year" award, and in 1967 he received a Citation of Merit in Journalism from Lincoln University in Jefferson, MO, for distinction in improving human relations.
In 1994, Raspberry won the Pulitzer Prize for Distinguished Commentary. The National Association of Black Journalists gave him its 1994 Lifetime Achievement Award. He is a Fellow of the American Society of Professional Journalists. Georgetown University, in honoring him with a doctorate degree in 1984, said that Raspberry "has shown us what we are, but has also shown us what we might be." He has been awarded honorary doctorates by 15 educational institutions. Raspberry teaches at Duke University, serving in the Knight Chair in Communications and Journalism.