Vernon Walters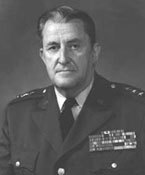 U.S. Ambassador to the U.N.
Vernon Walters, the son of a British insurance salesman, was born in New York on 3rd January, 1917. In 1923 the family returned to Britain. After a spell in France they arrived back in the United States in 1933. Walters then found employment as an insurance claims adjuster and investigator.
After President Franklin D. Roosevelt declared war on Japan in December, 1941 Walters joined the U.S. Army. In 1942, as a result of being able to speak several languages, he became an intelligence agent. His first assignment was to infiltrate a group of suspected Nazi spies.
Walters became an aide to General Mark Clark and in 1944 was with him when US troops liberated Italy. After the war Walters served as an aide to W. Averell Harriman at the Marshall Plan headquarters in Paris. And in 1951, as a lieutenant colonel, he returned to Paris to help set up the Supreme Headquarters Allied Powers in Europe.
In the 1950s Walters worked as an aide and interpreter to Harry Truman, Dwight Eisenhower and Richard Nixon. Walters was fluent in French, Spanish, Italian, German, Portuguese, Chinese and Russian. He also represented Truman when he was was in conflict with General Douglas MacArthur, commander of United Nations forces in Korea.
In 1972 President Richard Nixon appointed Walters as deputy director of the Central Intelligence Agency. When Richard Helms was sacked in 1973 he was acting director for two months. He was also deputy director under William Colby. He left the CIA in 1976.
From 1981 to 1985, Walters was ambassador at large in the Ronald Reagan administration, visiting more than 100 countries. He was ambassador to the United Nations from 1985 to 1988 and then ambassador to Germany until 1991.
Walters was the author of two books, his autobiography, Silent Missions (1978) and The Mighty and the Meek (2001), a book about famous people he had worked with during his life.
Vernon Walters died in West Palm Beach, Florida on 10th February, 2002.