Tom Brokaw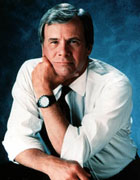 NBC News Anchor
Television journalist Tom Brokaw was the anchor of NBC Nightly News from 1982 until 2004. He covered almost all of the top stories, including the Watergate scandal, the live opening the Berlin Wall and the 2000 Presidential election. After September 11, 2001, he postponed his retirement to cover the attacks. Brokaw retired from NBC Nightly News in 2004 but is still an active journalist.
Television journalist. Born February 6, 1940 in Webster, South Dakota. The eldest son of a construction worker and a post office clerk, Tom Brokaw graduated from the University of South Dakota with a degree in political science in 1962. He started as a radio reporter in college, and after graduating he found work as the editor of a morning news program in Omaha, Nebraska. He also served as a news anchor and editor in Atlanta, Georgia, before becoming a KNBC late-night presenter in Los Angeles (1965-73).
As the National Broadcasting Company (NBC) Washington correspondent (1973-6), Tom Brokaw covered several top stories, including the Watergate scandal. He became Today show host (1976-82), leaving to become co-anchor of NBC Nightly News in 1982 with Roger Mudd. Brokaw took over as sole anchor in 1983 and remained in that post until 2004. During his tenure, he reported on the live opening of the Berlin Wall, conducted a historic 1987 interview with Mikhail Gorbachev, and "awarded" the 2000 Election to Al Gore before retracting the following morning. After September 11, 2001, Brokaw postponed his retirement to cover the terrorist attacks. He retired from NBC Nightly News in 2004 and was replaced by Brian Williams.
In addition to his historic reign in the anchor seat, Tom Brokaw has produced many specials for NBC including 2001's "The Greatest Generation Speaks" based on his bestselling book, The Greatest Generation. He has consistently kept busy throughout his retirement; Hosting History Channel documentaries, delivering speeches and eulogys and and serving on the board of directors for several organizations. He returned to the NBC anchor desk on June 13, 2008 in order to announce the unfortunate death of his friend and colleague Tim Russert. Brokaw would act as interim host for Russert's successful Sunday Morning series "Meet the Press," until a suitable replacement could be found. He also hosted the second presidential debate between Barack Obama and John McCain on October 7, 2008 in Nashville, Tennessee.
Brokaw lives on a ranch in Montana with his wife Merideth. The two have been married since 1962 and have three daughters.
Tom Brokaw
Landon Lecture
March 24, 1986