Thomas P. O'Neill, Jr.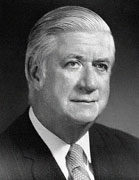 U.S. Rep., Massachusetts
Thomas P. "Tip" O'Neill, Jr. (December 9, 1912 - January 5, 1994) was a Massachusetts politician who win the House seat vacated by John F. Kennedy when he ran for the Senate in 1952. An outspoken liberal Democrat, O'Neill became one of the most influential members of the House of Representatives, rising to become Speaker of the US House of Representatives in 1977. He held the post until his retirement from Congress in 1987, after 34 years in the House. He was the second longest serving Speaker in history after Sam Rayburn.
During the Presidential administration of Ronald Reagan, Tip O'Neill, whose nickname was that of a famous baseball player of the 19th Century, as well as a reference to his first two initials, "TP", was the face of the Democratic Party and of liberalism. He was beloved in his district and in the Commonwealth of Massachusetts and will long be remembered for his commitment to the liberal welfare state championed by Democratic Presidents Franklin D. Roosevelt, Harry S. Truman and Lyndon Johnson, a commitment that frequently caused clashes with Democratic President Jimmy Carter, a fiscal conservative.