Sen. Thomas F. Eagleton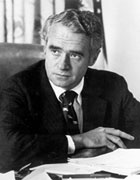 U.S. Senator, Missouri
Named for former U.S. Senator Thomas F. Eagleton, the 29-story U.S. Courthouse is a major landmark for the city of St. Louis. The exterior of the building follows a classical tripartite scheme, which utilizes the split-level stacking concept.
Construction was completed in 2000. The Thomas F. Eagleton Courthouse has more than 1.3 million square feet of space and is the tallest courthouse nationwide at 557 feet. The courthouse again earned an ENERGY STAR rating in 2010.
Thomas F. Eagleton served in the U.S. Senate from 1968-1987 before returning to Missouri where he continued to practice law and teach at Washington University in St. Louis.