Shirley Temple Black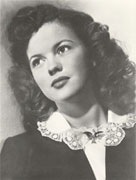 Movie Star, U.S. Ambassador
Shirley Temple Black is widely regarded as an American heroine who devoted her career first to films and then to public service. The United States ambassador to Czechoslovakia from 1989 until 1992, she is still remembered by millions of fans for her success as a child movie star in the 1930s.
In 1950 Temple married the successful California businessman Charles Black, with whom she raised her children. Her concern over domestic social problems caused her to realize that life as a private citizen could not satisfy her desire to make the world a better place. She ran for Congress in 1967 and was defeated. This was only the beginning of her involvement in public service, however. In 1969 she was appointed to serve as a representative to the United Nations (UN), a multinational organization aimed at world peace. Her work at the United Nations led to a second career for Shirley Temple Black. In 1972 she was appointed representative to the UN Conference on the Human Environment and also served as a representative on the Joint Committee for the USSR-USA Environmental Treaty. The next year she served as a U.S. commissioner for the United Nations Educational, Scientific, and Cultural Organization (UNESCO).
Black overcame a great challenge in 1972 when she successfully battled breast cancer. When she publicly disclosed that she had had a mastectomy (the surgical removal of a breast), she gave courage to millions of women. Two years later she was appointed ambassador to Ghana, where the people of that nation warmly received her. In all of her various diplomatic functions, Black's intelligence and spirit contributed greatly to her country's reputation and furthered its world position. Democratic President Jimmy Carter (1924) paid tribute to her tact and flawless taste when he chose her (Black had been a lifelong Republican) to make the arrangements for his inauguration (swearing in as president) and inaugural ball in 1977.
By 1981 Black was such an established pillar of the public service community that she became one of the founding members of the American Academy of Diplomacy. In 1988 she was appointed Honorary Foreign Service Officer of the United States, the only person with that rank. She went on to serve as the U.S. ambassador to Czechoslovakia (today known as the Czech Republic and Slovakia) from 1989 until 1992. Such honors are ultimately the true measure of her career's meaning.