Sen. Sam Brownback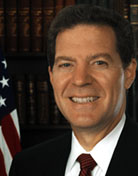 U.S. Senator, Kansas
Sam Brownback grew up on a farm near Parker, Kansas. He graduated with honors in Agricultural Economics from Kansas State University, and has a law degree from the University of Kansas.
In 1986, Brownback was chosen as the youngest Secretary of Agriculture in state history and while there he served for one year as a White House Fellow in the Office of the U.S. Trade Representative.
In 1994, he was elected to the U.S. Congress, representing the Second District of Kansas. In 1996, the people of Kansas elected Sam Brownback as their 32nd U.S. Senator, filling out the unexpired portion of Sen. Bob Dole's term. In 1998, they elected him to a full six-year term and he was reelected to a second term in November of 2004.
Brownback currently serves on four committees: the Appropriations Committee, the Judiciary Committee, the Joint Economic Committee, and he is Chairman of the Helsinki Commission.
During his ten years in Congress, Brownback has fought to make the federal government less intrusive, more efficient, and a better steward of your tax dollars. He has been a tireless champion for our children and families by working to protect traditional marriage, by confirming judges that strictly uphold the Constitution, by holding the media industry responsible for violent and sexual content, and by protecting the innocent and the unborn. And Brownback will continue to be a strong advocate for democracy and human rights around the world.
Throughout his career, Brownback has worked as an administrator, broadcaster, attorney, teacher, and author. He and his wife Mary have five children, Abby, Andy, Elizabeth, Mark, and Jenna, and live in Topeka, Kansas.
Photo and biography obtained from: http://brownback.senate.gov/
Sam Brownback
Landon Lecture
February 22, 2006