Robert Mueller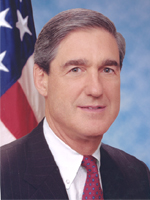 FBI Director
Mueller became the sixth director of the FBI in 2001, just a few days before the Sept. 11 terrorist attacks. He brings more than 30 years of legal experience, mainly in the public sector, to the job.
After graduating from Princeton University in 1966 and earning a master's degree in international relations at New York University in 1967, he joined the U.S. Marine Corps, where he served as an officer for three years, leading a rifle platoon of the Third Marine Division in Vietnam. For his service, he earned the Bronze Star, two Navy Commendation Medals, the Purple Heart and the Vietnamese Cross of Gallantry.
After his military service, he earned a law degree from the University of Virginia Law School. Following a brief stint in private practice, he worked for 12 years in the U.S. District Attorney's Office, serving as chief of the Criminal Division of the Northern District of California and as an assistant U.S. Attorney in Boston where he worked on cases involving major financial fraud, terrorist and public corruption, narcotics conspiracies and international money launderers. Mueller then become a partner in a Boston law firm, but returned to public service in 1989 as an assistant to U.S. Attorney General Richard Thornburgh in the Department of Justice. He became head of the department's Criminal Division in 1990, overseeing some of the department's most noted prosecutions, including the conviction of Panamanian leader Manuel Noriega and the John Gotti mobster prosecution.
He returned to private practice from 1993-95 before becoming senior litigator in the homicide section of the U.S. Attorney's Office for the District of Columbia. He was U.S. Attorney in San Francisco from 1998 until being named acting deputy attorney general for the U.S. Department of Justice in 2001. He served in that post until being named FBI director several months later.
Robert Mueller is the 131st speaker in the Landon Lecture Series.
Robert Mueller
Landon Lecture
April 13, 2004