General Richard Myers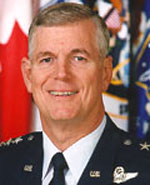 Chairman of the Joint Chiefs of Staff
General Richard B. Myers became the fifteenth Chairman of the Joint Chiefs of Staff on Oct. 1, 2001. In this capacity, he serves as the principal military advisor to the President, the Secretary of Defense, and the National Security Council. Prior to becoming Chairman, he served as Vice Chairman of the Joint Chiefs of Staff for 19 months.
General Myers was born in Kansas City, Missouri. He is a 1965 graduate of Kansas State University, and holds a Masters Degree in Business Administration from Auburn University. The General has attended the Air Command and Staff College at Maxwell Air Force Base, Alabama; the U.S. Army War College at Carlisle Barracks, Pennsylvania; and the Program for Senior Executives in National and International Security at the John F. Kennedy School of Government, Harvard University.
General Myers entered the Air Force in 1965 through the Reserve Officer Training Corps program. His career includes operational command and leadership positions in a variety of Air Force and Joint assignments. General Myers is a command pilot with more than 4,100 flying hours in the T-33, C-37, C-21, F-4, F-15 and F-16, including 600 combat hours in the F-4.
As the Vice Chairman from March 2000 to September 2001, General Myers served as the Chairman of the Joint Requirements Oversight Council, Vice Chairman of the Defense Acquisition Board, and as a member of the National Security Council Deputies Committee and the Nuclear Weapons Council. In addition, he acted for the Chairman in all aspects of the Planning, Programming and Budgeting System including participation in the Defense Resources Board.
From August 1998 to February 2000, General Myers was Commander in Chief, North American Aerospace Defense Command and U.S. Space Command; Commander, Air Force Space Command; and Department of Defense manager, space transportation system contingency support at Peterson Air Force Base, Colorado. As commander, General Myers was responsible for defending America through space and intercontinental ballistic missile operations. Prior to assuming that position, he was Commander, Pacific Air Forces, Hickam Air Force Base, Hawaii, from July 1997 to July 1998. From July 1996 to July 1997 he served as Assistant to the Chairman of the Joint Chiefs of Staff, the Pentagon; and from November 1993 to June 1996 General Myers was Commander of U.S. Forces Japan and 5th Air Force at Yokota Air Base, Japan.
Information on General Richard B. Myers was obtained from:
http://www.defenselink.mil/bios/myers_bio.html