Ralph McGill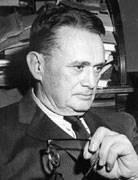 American Pulitzer Prize Winning Journalist and Publisher
Ralph McGill was born on February 5, 1898, on a farm in eastern Tennessee. When he was six the family moved to Chattanooga and lived on a farm bequeathed by his grandfather. McGill's father, who influenced his son with a passion for learning and who had changed his own name from Benjamin Wallace to Benjamin Franklin McGill, took a job as a salesman for a small heating and roofing company. The son's middle name came in honor of a friend who was a devotee of Ralph Waldo Emerson. McGill always had happy memories of his childhood and of his family, including his mother, Mary Lou Skillern McGill.
The region of his boyhood undoubtedly influenced McGill's later views. McGill recalled that "I lived in history," surrounded by monuments and memorabilia of the Civil War and its nearby battlefields. But Chattanooga was never a die-hard Southern city, and eastern Tennessee, a non-slaveholding area, had dominant Republican Party and Union sympathies. McGill's grandfathers had taken opposite sides in the war, and his parents had opposing party loyalties.
McGill, who customarily as a boy walked the two miles to the nearest library, pursued his education at McCallie Preparatory School, where he also played football. In 1917 he entered Vanderbilt University in Nashville, although he did not complete his undergraduate studies. At the university McGill befriended several people who forged the literary group known as the "Fugitives," although McGill did not join the group. He was especially close to Allen Tate and lived next door to Robert Penn Warren. Here also McGill found his enthusiasm for journalism with work on the campus paper the Hustler and part-time work with the city paper the Banner. In 1929 he joined the staff of the Atlanta Constitution as a sports writer, but he also covered other subjects, such as his stories on the Ku Klux Klan that he derived from personal interviews. In 1938 McGill became executive editor of the paper and in 1942 publisher.
At the Atlanta Constitution McGill was an appropriate distant successor to Henry W. Grady who in the 1880s had made the paper the vehicle of his "New South" philosophy, for McGill also championed a new South. He saw the region dominated by a series of local baronial autocrats who exploited the people they controlled and thrived from the corrupt political systems they nourished. McGill saw education and economic growth as the key to the South's progressive future but despaired that these forces of change could be generated from the inside. He consequently hailed migration into the South from outside and looked to new businessmen in the region to form a countervailing political voice to the regressive demagogues in the state capitals. McGill often breathed contempt for the Old South myths and remarked that the Confederate flag, worn on the black jackets of long-haired motorcyclists, had become a symbol of the social outcast. McGill constantly assailed Southern political leadership for its yielding to mob emotions and its failure to foster rational public dialogue on the day's critical issues.
McGill particularly recoiled from the outmoded recourse to "state's rights" by Southern politicians. This ancient shibboleth, he believed, had kept the South, from the antebellum years, through the Confederacy, and into the 20th century, in a backward and isolationist condition with respect to the rest of the nation. The dogma was essentially a cover for racism, he added, and he depicted Alabama Governor George Wallace as one who exploited the anachronism in inflammatory fashion. In the school integration crisis that struck the South in the late 1950s and the early 1960s McGill spoke out courageously for racial integration and won national attention for his efforts. He tried painstakingly to defuse the racial aspects of the issue by joining desegregation to the cause of children's education and the hope of lifting both black and white children of the South from the region's shameful record in public education.
Although some people found that McGill's views became tiresomely predictable, he was not a simple person. He wrote with a sense of irony about Southern life and appreciated the complexity of its history. He had a love of poetry that made his essays impassioned, sometimes lyrical, and always readable. He could be bitingly caustic, and his confrontational style was answered with the mean and degrading harrassment and intimidation that he and his family suffered from militant segregationists. McGill immersed himself in Southern history and could cite dates, statistics, and events for his editorial commentaries. He did some of his best and most interesting writing on Southern personalities past and present. His essays on Tom Watson, for example, show McGill's sense of the terrible irony of Southern history. In the story of this populist turned racist, McGill saw the liberal and progressive forces of the South succumb to the darker and more powerful hatred that ultimately consumed Watson and left a bitter legacy in Southern politics.
McGill, raised a Presbyterian, became an Episcopalian. He was married three times, his first two wives preceding him in death, and he had three children. McGill died February 3, 1969, in Atlanta, Georgia.
Ralph McGill
Landon Lecture
May 17, 1967