Paul Harvey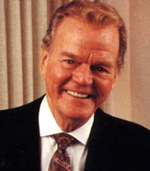 Radio Newsman
"Paul Harvey is a radio icon. He is one of the foremost newsmen in the business," said Charles Reagan, chair of the Landon Lecture Series. "His hallmark programs, 'News and Comment' and 'The Rest of the Story,' have established him as one of the world's most listened-to broadcasters."
A native of Tulsa, Okla., Harvey began his radio career in 1933 at Tulsa's KVOO-AM while he was in high school. He continued working at the station while attending Tulsa University, serving as an announcer and as program director. After graduating from college, Harvey worked at a radio station in Kansas, was a newscaster at KOMA-AM in Oklahoma City and served as director to special events and a roving reporter for KXOK-AM in St. Louis.
Harvey moved to Hawaii in 1940 to cover the U.S. Navy as it began to concentrate its fleet in the Pacific. He was returning to the mainland from his Hawaii assignment when Pearl Harbor was bombed. He then enlisted in the Army Air Corps, serving until 1944.
He moved to Chicago in June 1944 and worked at the ABC affiliate, WENR-AM, where he became one of the most listened-to newscasters in Chicago. Harvey's audience stretched from coast to coast when he began his "News and Comment" program on the ABC Radio Networks in 1951. His "The Rest of the Story" program, which focuses on little known facts behind people and events, began on the ABC Radio Networks in May 1976.
Today, "News and Comment" and "The Rest of the Story" can be heard every Monday through Saturday. Paul Harvey News is the largest one-man network in the world, with more than 1,200 radio stations, 400 Armed Forces Network stations and 300 newspapers. "News and Comment" also is streamed on the World Wide Web twice a day.
Paul Harvey is the 130th speaker in the Landon Lecture Series.
Paul Harvey
Landon Lecture
September 19, 2003