Oscar Arias Sanchez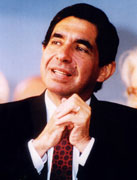 President of Costa Rica
Oscar Arias Sanchez was born in 1940. After studying in the United States, he read law and economics at the University of Costa Rica in the capital, San Jose. As a student he engaged actively in the work of the National Liberation Party. Having completed his degree, he went on to take a doctorate in England, with a thesis on the subject of "Who rules Costa Rica?" He is the author of a number of books and articles on political and historical subjects.
Arias embarked on his political career in earnest in 1970, as assistant to Jose Figueres, a former President who was again seeking election. When Figueres was elected in 1972, Arias was given a seat in the government as Minister of National Planning and Political Economy. In 1975 his party elected him International Secretary and in 1979, General Secretary. He represented the party at several Socialist International congresses.
In the 1978 elections, when the Christian Social Unity Party won the presidency, Arias was elected to the Legislative Assembly but withdrew in 1981 to work for his party's presidential candidate, Luis Alberto Monge, who won in 1982. Nominated himself in 1985, Arias was elected President in 1986, winning 52.3% of the votes against 45.8% for the Christian Social Unity candidate. As President, he intervened against the activities of U.S.-backed Contras on Costa Rican territory. Although critical of the political system in Nicaragua, Arias has concentrated on engaging Nicaragua and the other Central American states in a peace-making process. In May 1986, he met the Presidents of Guatemala, El Salvador, Honduras, and Nicaragua to discuss the proposals for a peaceful solution that had been worked out by the Contadora group. They did not reach full agreement, but early in 1987 Arias succeeded in calling a new meeting at which he submitted his own peace plan, departing in some respects from the Contadora plan. The accord approved by the five Presidents in Guatemala on August 7 was based on President Arias's plan.