Martin Baron
Executive editor for the Washington Post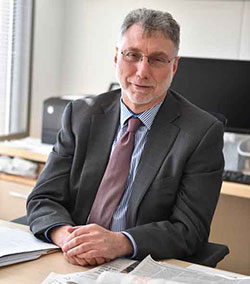 In addition to leadership at The Washington Post, Baron has led newsrooms at The Boston Globe, The New York Times, The Los Angeles Times and The Miami Herald for a collective 11 Pulitzer Prizes awarded under his leadership. The Washington Post has won Pulitzers for national reporting, explanatory reporting and public service, which included coverage of the National Security Agency's surveillance.
Under Baron's leadership, The Boston Globe received a 2003 Pulitzer for the investigation of the Catholic priest scandal that inspired the 2015 movie "Spotlight." After Baron became executive editor at The Miami Herald, the paper won a 2001 Pulitzer for breaking news reporting of a raid by federal agents to return Elián González to his Cuban father.
In Baron's current position at The Post, he oversees print and digital news operations and manages about 700 journalists. In 2004, The National Press Foundation named him Editor of the Year. He started his career as a state reporter at The Miami Herald in 1979 after graduating from Lehigh University with a Bachelor of Arts and Master of Business Administration.
Since 1966, the Landon Lecture Series on Public Issues, named in honor of former Kansas governor and political leader Alfred M. Landon, has invited global leaders to share thoughts about national and global issues. The lecture series has hosted U.S. presidents, Supreme Court justices, national and global political leaders, and many other prominent figures.
Martin Baron
Landon Lecture
April 6, 2017