Lee Hamilton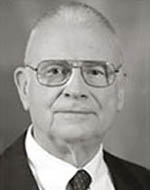 Vice chair of the 9-11 Commission
As vice chair of the 9-11 Commission, Hamilton helped lead the independent, bipartisan committee that conducted hearings and released a report on the terrorist attacks. The report included a full account of the circumstances surrounding the attacks, as well as recommendations to guard against future attacks.
Hamilton has served as president and director of the Woodrow Wilson International Center for Scholars since 1999. Prior to joining the center, he represented Indiana's 9th District for 34 years in the U.S. House. During his tenure, he served as chair and ranking member of the House Committee on Foreign Affairs and chaired the Subcommittee on Europe and the Middle East, the Permanent Select Committee on Intelligence and the Select Committee to Investigate Covert Arms Transactions with Iran. As chair of the Joint Committee on the Organization of Congress and a member of the House Standards of Official Conduct Committee, he was a primary draftsman of several House ethics reforms.
Since leaving the House, Hamilton has served on the U.S. Commission on National Security in the 21st Century, also known as the Hart-Rudman Commission, and was co-chair with former Sen. Howard Baker of the Baker-Hamilton Commission to Investigate Certain Security Issues at Los Alamos. He currently is a member of the President's Homeland Security Advisory Council.
Photo obtained from: http://www.9-11commission.gov/about/bio_hamilton.htm
Lee Hamilton
Landon Lecture
March 29, 2005