John Hofmeister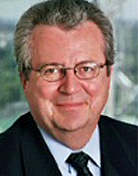 President of Shell Oil Co.
John Hofmeister, who earned both a bachelor's and a master's in political science from K-State, has served as president of Shell Oil Co. since March 2005. The Houston-based company is an affiliate of the Shell Group, a global group of energy and petrochemical companies with 109,000 employees and operations in more than 140 countries and territories. Shell has 22,000 employees based in the U.S.
Mr. Hofmeister joined Shell in 1997 as director of human resources, based in The Hague, The Netherlands, and in London. He previously served as vice president, international human resources, for Allied Signal Inc., based in Hong Kong, and was responsible for developing and implementing the company's Asian and European human resources strategy and infrastructure for its aerospace, automotive and engineered materials businesses. He joined AlliedSignal in 1992.
He also worked for Northern Telecom Inc. from 1988-1992, where he became vice president of human resources in 1990. Mr. Hofmeister began his career in 1973 with General Electric in its international sales and marketing department for the company's lighting business. During his 15 years with General Electric, he served in a variety of marketing, manufacturing and human resources positions, including as general manager of the company's motor relations operations.
A Fellow of the National Academy of Human Resources, Mr. Hofmeister serves on the boards of the American Petroleum Institute, National Urban League and the Greater Houston Partnership.
Photo obtained from: http://www.shell.com/home/Framework?siteId=us-en&FC2=/us-en/html/iwgen/about_shell/our_people/hofmeister/zzz_lhn.html&FC3=/us-en/html/iwgen/about_shell/our_people/hofmeister/john_hofmeister.html