J.C. Watts Jr.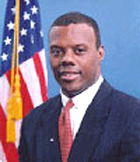 U.S. representative, Oklahoma
Congressman J.C. Watts Jr., who represents the 4th Congressional District of Oklahoma, will present the next Landon Lecture at Kansas State University.
"We're pleased Congressman Watts has accepted our invitation to speak at K-State," said Charles Reagan, chairman of the Landon Lecture Series. "Rep. Watts serves on several key House committees dealing with our nation's military and our national security, including the Armed Services Committee, the Military Readiness Subcommittee and the Special Oversight Panel on Terrorism."
Watts, who is currently serving his fourth term in the House, also is conference chairman for the House Republican leadership. First elected to Congress in 1994, his work has received several honors, including being named one of the Junior Chamber of Commerce's Ten Outstanding Young Americans in 1996; the Jefferson Award for promoting economic prosperity and free enterprise; and the U.S. Chamber of Commerce's Spirit of Enterprise Award.
Watts graduated from the University of Oklahoma in 1981 with a bachelor's degree in journalism. He also played quarterback for the Sooners, leading the team to two consecutive Big Eight championships. Watts also has served as a youth minister and an associate pastor for the Sunnylane Southern Baptist Church in Oklahoma.
J.C. Watts Jr.
Landon Lecture
April 26, 2002