Hugh Scott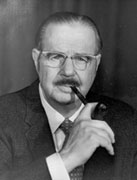 U.S. senator, Pennsylvania
Member of the U.S. House of Representatives 1940-59, U.S. senator 1959-77 Scott was educated at Randolph-Macon College and at the University of Virginia where he studied law. After a period in private practice, he became in 1926 an assistant district attorney, a post he held until his election to the House of Representatives in 1941. Service in Congress was interrupted by a spell in the navy but in 1947 he returned to the House and in 1948 became chairman of the Republican National Committee, partly as a reward for help in getting Thomas Dewey the nomination.
Elected to the Senate in 1958, Scott served on the Judiciary and Foreign Relations Committee. In 1969 Scott was made Republican whip and, when Everett Dirksen died later that year, Scott was elected to succeed him as Republican Senate leader.
Scott was generally seen as being on the liberal wing of the Republican Party. For example, he was a reliable supporter of civil rights measures regardless of the partisan advantage to be gained increasingly from opposing such initiatives. Above all else he was a loyal party man who supported Republicans in the White House almost regardless of the impact of their policies on the congressional party. He took a long time to withdraw support from Richard Nixon over Watergate; but in 1974 Scott was one of the Republican leaders who had to tell the embattled President that he could no longer survive impeachment.
Scott retired from the Senate in 1976 and returned to private practice in Washington, DC.
Hugh Scott
Landon Lecture
April 26, 1971