Hodding Carter III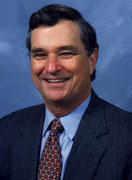 Anchorman and chief correspondent, PBS' 'Inside Story'
Hodding Carter III, a well-known print and broadcast journalist and high official in the Carter administration, was president and CEO of the Knight Foundation from February 1998 until his retirement in July 2005. He is now on faculty as University Professor of leadership and public policy at the University of North Carolina at Chapel Hill.
Under his leadership, the Knight Foundation made $15 million in grants in recent years to further freedom-of-information projects and initiatives. Recipients included the National Freedom of Information Coalition, the Reporters Committee for Freedom of the Press, the National Security Archive, the American Society of Newspaper Editors, Radio-Television News Directors Association and several investigative reporters groups, including Investigative Reporters and Editors. The foundation also has funded Sunshine Week, now in its second year.
Carter held the Knight Chair in Journalism at the University of Maryland College of Journalism and from 1965-66 he was a Nieman Fellow at Harvard. He worked on two presidential campaigns for Lyndon Johnson and Jimmy Carter. In January 1977, Carter became spokesman of the Department of State and Assistant Secretary of State for Public Affairs, serving until 1980. He then launched a career in television, and has since served as host, anchor, panelist, correspondent and reporter for a variety of public-affairs television shows.
Carter's father was a newspaper publisher and editor in the South whose editorials on racial and religious tolerance for the family-owned Greenville, Miss., Delta Democrat-Times won the Pulitzer Prize in 1946. Hodding Carter III graduated summa cum laude in June 1957 with a bachelor's degree from Princeton University. After serving in the military, he returned to Greenville in 1959, where he spent nearly 18 years as reporter-editorial writer, managing editor and editor and associate publisher of the Delta Democrat-Times.
He has written two books, The Reagan Years and The South Strikes Back.
Inducted into the Hall of Fame in 2006.