David McCullough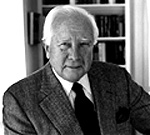 Pulitzer Prize-winning author
David McCullough is the author of the best-selling biographies, "Truman" and "John Adams." "Truman," which spent 43 weeks on the New York Times bestsellers list in hardcover and 24 weeks in paperback, received the Pulitzer Prize for biography in 1993. McCullough's latest biography, "John Adams," released in 2001, is among the fastest-selling nonfiction books in history, according to Publisher's Weekly, with more than 1 million copies in print.
"David McCullough is one of America's foremost historians. I am so pleased that we were able to attract him to the Landon podium," said Charles Reagan, chairman of the Landon Lecture Series.
A two-time winner of the National Book Award, McCullough also has received the Frances Parkman Prize, the Charles Frankel Prize from the National Endowment for the Humanities, the Los Angeles Times Biography Prize and the Harry S. Truman Award for Service. His books also include "The Johnstown Flood," released in 1968; "The Great Bridge," 1972; "The Path Between Seas," 1977; "Mornings on Horseback," 1981; and "Brave Companions," 1991.
An Emmy winner for his work in public television, McCullough was narrator of the PBS series, "The American Experience," and of Ken Burns' "The Civil War," a PBS documentary. He also has served as a writer and editor for Time magazine and has taught at several universities.
Photo obtained from: http://nobelprize.org