Cokie Roberts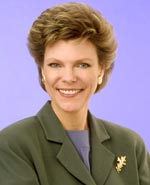 Political analyst, ABC News
Roberts is ABC's chief congressional analyst and co-anchor of the network's Sunday morning political show, "This Week With Sam Donaldson and Cokie Roberts."
"Cokie Roberts is among this nation's most honored political journalists. We are pleased that she has accepted our invitation to deliver a Landon Lecture at Kansas State University," said Charles Reagan, chairman of the Landon Lecture Series.
A member of the ABC News team since 1988, Roberts reports on politics, Congress and public policy for the network's nightly news show, "World News Tonight," and for other ABC News' programs. She also is a news analyst for National Public Radio, where she served as a congressional correspondent for more than 10 years.
In addition, she is the author of the best-selling book, "We Are Our Mother's Daughters," and writes a syndicated weekly column with her husband, Steve Roberts, that appears in major newspapers across the country. She also has written op-ed columns for the New York Times and Washington Post, and articles for the New York Times Magazine and The Atlantic.
Prior to joining ABC News, Roberts was a contributor to PBS-TV's "MacNeil/Lehrer NewsHour" and worked as a reporter in Athens, Greece, for CBS News.
Roberts has received many of the top honors in broadcast news for her reporting, including an Emmy in 1991 for an ABC News special on Ross Perot; National Public Radio's top honor, the Edward R. Murrow award; and the Everett McKinley Dirksen Award for her coverage of Congress.
Cokie Roberts
Landon Lecture
Nov. 8, 1999