Bob Woodward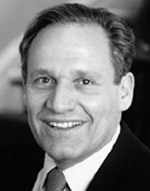 Investigative journalist
He first came to national prominence for his investigative reporting, with colleague Carl Bernstein, on the infamous Watergate break-in, for which they were awarded the Pulitzer Prize. Woodward has continued his incisive reporting of Washington's inner workings with the same award-winning style.
In his role as Assistant Managing Editor for investigative news at The Washington Post, his coverage of important stories has been the basis for several hugely popular books. He is the only contemporary author who has written more than seven number-one best-selling non-fiction books.
Woodward co-authored The Brethren: Inside the Supreme Court, a book about the decision-making process of the United State Supreme Court, and The Man Who Would Be President: Dan Quayle. Other books include: Wired: The Short Life and Fast Times of John Belushi; Veil: The Secret Wars of the CIA; and The Commanders. Most recently, Woodward authored The Agenda: Inside the Clinton White House and The Choice, a fascinating examination of presidential candidates Bill Clinton and Bob Dole.
Information on Bob Woodward was obtained from:
http://www.speakers.com/Woodwardb.html
Bob Woodward
Landon Lecture
March 29, 2000