Bill Schneider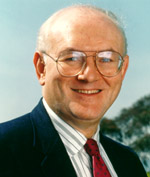 Senior political analyst at CNN
"Bill Schneider is recognized as one of the nation's leading political commentators and is a major contributor to CNN's 2004 election coverage," said Charles Reagan, chair of the Landon Lecture series.
With CNN since 1991, Schneider is regularly featured on the network's "Inside Politics" show and its presidential election coverage. He also is a resident fellow at the American Enterprise Institute in Washington, D.C., where he researches politics, the presidency and public opinion.
Schneider is the co-author of the book, "The Confidence Gap: Business, Labor and Government in the Public Mind." He is a contributing editor to the Los Angeles Times, National Journal and Atlantic Monthly, and has also written extensively on politics and public opinion for The New Republic, Washington Post and other publications. He has been a frequent television commentator and featured speaker on public affairs in the United States and abroad.
Schneider earned a bachelor's degree from Brandeis University and a doctorate in political science from Harvard University, where he later taught in the department of government. He also has held an International Affairs Fellowship from the Council on Foreign Relations and a National Fellowship from the Hoover Institution at Stanford University. In addition, he was the Speaker Thomas P. O'Neill Jr. Visiting Professor of American Politics at Boston College from 1990-95.
Photo obtained from: http://www.aeipoliticalcorner.org/ws.htm