Ashleigh Banfield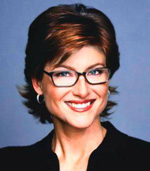 MSNBC anchor
Ashleigh Banfield, a host of "MSNBC Investigates" and a NBC News correspondent, will deliver a Landon Lecture at 10:30 a.m. Thursday, April 24, at Kansas State University's McCain Auditorium.
"We're delighted to bring Ashleigh Banfield to Kansas State," said Charles Reagan, chair of K-State's Landon Lecture Series. "She has earned a reputation as one of today's rising young reporters through her work reporting breaking news from across the country and around the world."
Banfield covered the Sept. 11, 2001, terrorist attacks, reporting live for eight consecutive days at the World Trade Center in New York City. She then followed the story to the Middle East, reporting live from Afghanistan, Iran, Iraq, England, Israel, Jordan, Lebanon and Syria for the MSNBC primetime series, "A Region in Conflict," from September 2001 to July 2002.
She anchored live her own MSNBC news program, "Ashleigh Banfield: On Location," from July to October 2002. The program included a stop in Manhattan in August 2002, where Banfield interviewed K-State experts on protecting the nation's food supply from bioterrorism.
Her other work at MSNBC has included serving as co-anchor of "Newsfront," a nightly news program; covering the Bush-Cheney campaign for the cable news network during the 2000 election; and covering the 2000 Summer Olympic Games in Sydney, Australia.
Prior to joining MSNBC, Banfield was a news anchor for KDFW-TV in Dallas, where she received an Emmy Award as best news anchor and a Texas Associated Press Award for best series. She also has worked at Canada's CICT-TV as a producer and evening news anchor and has been a freelance producer for ABC's "World News Tonight," where she covered the 1991 Bush/Gorbachev Summit in Russia and the 1992 Clinton/Yeltsin Summit in Vancouver, British Columbia, Canada.
Banfield earned a bachelor's degree in political studies and French from Canada's Queen's University in Ontario.