Anne Armstrong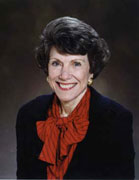 Presidential counselor
Anne L. Armstrong, an adviser to Presidents Richard M. Nixon and Gerald R. Ford and the first woman to serve as the United States ambassador to Britain, died Wednesday in Houston. She was 80 and lived in Armstrong, Tex.
The cause of death was complications from melanoma, said her son J. Barclay Armstrong.
Mrs. Armstrong was a prominent figure in Texas and national Republican Party politics when she was appointed counselor to Nixon in 1973. She was the first woman to be named to the cabinet-level position.
In that job, she became highly visible for her willingness to face hostile audiences as the Watergate scandal gathered force. She was, as a reporter for The New York Times described her then, the Nixon administration's "best, brave front to the public."
Under Nixon, Mrs. Armstrong created the White House Office of Women's Programs to provide a liaison between the president and women's groups. It sought to recruit female appointees to high-level government positions and to broaden opportunities for women in the federal government.
Mrs. Armstrong stayed on as counselor under Ford, who named her to the eight-member Council on Wage and Price Stability. She helped plan the United States bicentennial celebration and, for a time, seemed a likely contender to be Ford's running mate in the 1976 election.
Instead, she was named ambassador to Britain, where with her breezy, energetic style and the mere fact of being a woman, she seemed to fascinate her host country. She held the post from 1976 to 1977.
Anne Legendre was born in New Orleans on Dec. 27, 1927. Her father, Armant Legendre, was a coffee importer from a Creole family. At the Foxcroft School in Middleburg, Va., she was president of the student body and class valedictorian.
She graduated in 1949 from Vassar College, where she was member of Phi Beta Kappa and got her first taste of political activism as a volunteer worker for Harry S. Truman's 1948 presidential campaign.
In 1950, after working briefly as an assistant editor at Harper's Bazaar, she married Tobin Armstrong, a Texas cattle rancher, whom she met while visiting a classmate at the King Ranch, which adjoined Mr. Armstrong's 50,000-acre property. After moving to Texas, she learned to ride a horse, fish and handle a rifle. Mr. Armstrong died in 2005.
It was on the Armstrong ranch that Vice President Dick Cheney, while quail hunting in February 2006, let off an errant blast from his shotgun that hit Harry Whittington, a Texas lawyer, in the face and upper body. He was not seriously injured.
Mrs. Armstrong switched parties during the 1952 presidential campaign. She started as a precinct worker and then "sort of branched out," she told The Times in 1976.
Out and up would have been more accurate. She rose to become vice chairwoman of the state party from 1966 to 1968 and from 1968 to 1973 was a state committeewoman on the Republican National Committee, of which she was a chairwoman from 1971 to 1973. She favored a more inclusive Republican party that would reach out to younger voters, ethnic minorities and women.
Mrs. Armstrong was a keynote speaker at the 1972 Republican convention, the first woman in either party to deliver a keynote address.
She was a chairwoman of Ronald Reagan's 1980 presidential campaign and was chairwoman of the President's Foreign Intelligence Advisory Board from 1981 to 1990. After leaving politics, Mrs. Armstrong sat on the boards of several large corporations. In 1987, Reagan awarded her the Presidential Medal of Freedom.
In addition to her son J. Barclay of Houston, she is survived by four other children, Sarita Armstrong Hixon and Tobin Armstrong Jr., also of Houston; Katharine Armstrong Love of Austin, Tex.; James Armstrong of Middleburg; 13 grandchildren; and a sister, Katharine Legendre King of Houston.