November 4, 2019
Citlally Orozco awarded Rohrer Scholarship by American ethnic studies department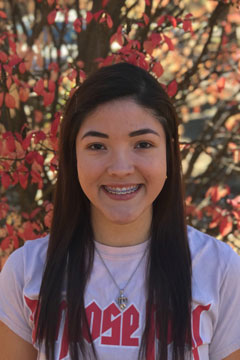 The American ethnic studies department has awarded the Wayne C. Rohrer Scholarship to Citlally Orozco, junior in political science and American ethnic studies.
The Rohrer Scholarship is awarded yearly to a student whose academic and career goals emphasize improving the understanding of racial and ethnic relations in the U.S.
Orozco has consistently demonstrated a strong commitment to improving race relations since her arrival at K-State. During her sophomore year, she served as president of the K-State chapter of the League of United Latin American Citizens, known as LULAC. LULAC was established in 1929 and is the oldest Latino/a civil rights advocacy organization in the U.S. Currently, Orozco holds a statewide position as LULAC deputy director of young adults. Her responsibilities include supervision of state committees and work areas pertaining to young adults. She also works closely with LULAC scholarship recipients to ensure they are progressing well in college.
Orozco also currently serves as vice president of the Multicultural Coalition, a departmental student organization that advocates for the programmatic, curricular, and physical presence of historically underrepresented peoples at Kansas State University in addition to fighting racism on and off campus.
As a researcher with the K-State Developing Scholars Program, Orozco conducted research on U.S. asylum practices of the southern border. In May 2019, she presented her research before experts, leaders and students at the National Conference on Race and Ethnicity in American Higher Education, focusing on how racial and ethnic backgrounds directly impact the challenges faced by students who are asylum seekers and immigrants.
Orozco is motivated by her own immigration status experiences and her keen awareness of the sufferings of immigrants such as herself. Orozco cites the ever-increasing number of for-profit detention facilities where asylum seekers and immigrants are held.
"Asylum seekers are detained for indefinite periods, have no access to health care, are mistreated, and are forced into immensely crowded spaces," Orozco said. "Children are separated from parents, without hope for reunification."
Orozco plans to go to law school.
"I hope to create a positive impact on racial and ethnic relations by serving as a legal voice to speak on behalf of asylum seekers and immigrants; to improve conditions for minorities in the United States," she said.
With regard to her double major she said, "My majors enhance my knowledge of the challenges faced by people of various ethnic and racial backgrounds in the United States, but they also prepare me for law school and guide me toward my career."
This fall, Orozco is a pilot participant in the DACA Oral History Project, directed by American ethnic studies professor Yolanda Broyles-González. Deferred Action for Childhood Arrivals, known as DACA, is an American immigration policy that allows some individuals brought to the U.S. as children to receive a renewable two-year period of deferred action from deportation and become eligible for a work permit in the U.S. The DACA Oral History Project collects those life stories as a form of research advocacy, to create a repository of life histories not readily found in books.