January 25, 2019
Confucius Institute to host fourth Chinese Culture Fair on Feb. 9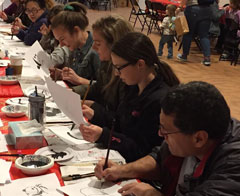 The Confucius Institute will host its fourth annual Chinese Culture Fair from 1-4:30 p.m. Saturday, Feb. 9, in the Fiedler-Rathbone atrium of the Engineering Complex.
The fair is a great opportunity to experience the Chinese culture and celebrate the arrival of the Year of the Pig. In Chinese culture, pigs symbolize wealth and fortune.
Art and crafts activities include Chinese calligraphy, paper-cutting, Chinese-style ink painting, red lantern and firecracker making, Peking opera mask drawing, dumpling making, tai-chi demonstration, traditional Chinese costume display and more. Several activities are new this year. Participants can also try assorted Chinese games and sample delicious Chinese food such as egg rolls, fried rice and noodles.
The event is free and everyone is welcome.