January 24, 2019
Commerce Bank's Derrick Nelson to speak at College of Business Administration Diversity Lecture on Jan. 29
Submitted by Brent Fritzemeier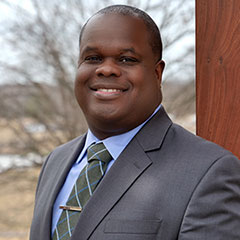 Derrick Nelson, assistant vice president of corporate inclusion and diversity for Commerce Bank, will be the spring 2019 speaker for the Kansas State University College of Business Administration's Diversity Lecture Series.
His lecture "Why must I embrace the power of inclusive leadership?" will begin at 1 p.m. Tuesday, Jan. 29, in the Business Building Lecture Hall. The event is free and open to the public.
Being an inclusive leader in today's environment is more challenging than ever. With the lack of loyalty between organizations and employees, it is difficult to be inclusive when there is fear of losing top talent at the first opportunity. During this lecture, Nelson will lead a discussion that explores why inclusive leadership is imperative for any organization to be successful. He will share how an inclusive leadership style, if done intentionally, can instill loyalty, trust and confidence while contributing to a positive and productive work environment. Learners will walk away with specific ideas they can take back to their organization to inspire their team and demonstrate the power of building an inclusive work environment.
In his role as assistant vice president, corporate inclusion and diversity manager for Commerce Bank, Nelson's responsibilities include providing guidance and leadership to employee resource groups and inclusion and diversity councils. These initiatives are designed to improve diversity representation while growing a culture of inclusion throughout the organization by advancing education, awareness and celebration objectives. Nelson engages collaboratively with leaders and team members at all levels across the organization to advance a diverse and inclusive culture, energize the workplace, and ignite innovation. He also drives the inclusion and diversity strategy through education on key topics, such as inclusive leadership and unconscious bias. Nelson leverages a strong network of diversity professionals and organizations, such as the Kansas City Diversity and Inclusion Consortium, which he helped co-found; COCAbiz; and Diversity Awareness Partners to stay current on trends and challenge the current state to generate fresh ideas and perspectives. Through his relationships with community partners, Nelson leads the company's internal and external outreach efforts by representing Commerce Bank at diversity and cultural events.
Nelson currently serves on the board of Center for Developmentally Disabled, a not-for-profit corporation founded in 1972 that provides housing, residential care, day habilitation and personal care assistance programs. He also serves on the board of directors for Workforce Partnerships, an organization committed to building a workforce development system that meets the needs of both job seekers and employers throughout Kansas City. His proven leadership style promotes an inclusive culture where employees are engaged, encouraged, recognized, supported and proud to be part of an outstanding organization.
Nelson has been studying and practicing human resources, inclusion, diversity and leadership for more than 20 years. He has held management and leadership roles in large retailers and now financial services, and was an adjunct professor in the classroom and online for nearly 10 years. He earned his undergraduate degree from Fontbonne University and holds a Master of Arts in Human Resources and a Master of Business Administration from Webster University. He also holds two human resources certifications: Senior Professional Human Resources and Society of Human Resource Management Senior Certified Professional. Nelson is currently in the 2018-2019 cohort of the St. Louis Business Diversity Initiatives Fellows program. In addition, he recently completed the FaciliTrainer Certification Program with the National Conference for Community and Justice of Metropolitan St. Louis. This program prepares individuals with the skills necessary to educate others about diversity, inclusion, equity and social justice.