January 9, 2019
March symposium to focus on 'The Art of Democracy'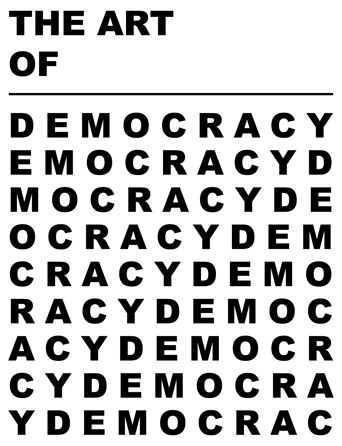 The Office of the Provost, Center for Engagement and Community Development, and the 2019 Engagement Symposium Steering Committee invite campus and the community to a daylong symposium dedicated to exploring the "Art of Democracy." The event will take place on Thursday, March 21, in the K-State Student Union and will feature a variety of presentations and performances.
Democracy is seen through our elections and political parties. It is visible through political protest and debate. It is also evident as people engage in thoughtful conversation and enact cultural performance. Democracy is word and act. It is November elections and citizens convening in public spaces to talk about local issues. It is our elected representatives voting as well as our artists representing culture through performance.
Now is an important time to reflect and re-energize democracy as we confront a global landscape that sees trends away from democracy toward authoritarian tendencies. A 2017 study found that just 19 percent of U.S. millennials agreed with the statement, "military takeover is not legitimate in a democracy." Among older citizens, the total was a still-surprising 43 percent. Perhaps most alarming was the revelation that one-quarter of millennials agreed that "choosing leaders through free elections is unimportant." Just 14 percent of baby boomers and 10 percent of older Americans agreed.
It is against this backdrop that we approach democracy as an art — an act of creation and constant reconstruction and reconfiguration. The 2019 Engagement Symposium looks through creative and generative lenses to expand how we think about inclusion and participation in democratic life.
M. L. Wilson's 1939 book "Democracy Has Roots" includes an epigraph that reads, "To Those Whose Faith in Democracy Calls Forth New Methods to Make It Work." This invitation to build on one's commitment to democracy and imagine and reimagine approaches and/or methods to make it work inspires the 2019 Engagement Symposium. The hope is to foster shared learning and dialogue among faculty, students, staffs and broader community members about the art of democracy in a world that is departing from a commitment to democratic ideals and practices.
Steering committee members represent the Institute for Civic Discourse and Democracy, Staley School of Leadership Studies, UFM, Manhattan Arts Center, the Department of Communication Studies, Marianna Kistler Beach Museum of Art, the Department of Art, and the K-State School of Music, Theatre, and Dance.
We invite community members, faculty, staff and students to respond to the call for presenters or performers. Agenda and registration information will be forthcoming.