Kansas State College Advising Corps
KSCAC Response to COVID-19
The team at KSCAC would like to acknowledge the profound concern, anxiety, and worry that this virus and its consequences have created for so many of us. With the transition away from in-person schooling due to school closures in Kansas, KSCAC's commitment to our students remains the same. The College Advisers have the ability to serve students virtually, and as part of the national College Advising Corps network, we have access to best practices around virtual advising. We have been working diligently execute plans so that individualized advising continues.
A few examples of our new virtual engagement include:
Strategic communication plan for emailing, calling, and texting students and parents

Both mass and individualized, based on students segmented by need

Creating virtual workshops through platforms such as Nearpod and Zoom
Transitioning the College Ambassador Summit (a leadership and college planning event for juniors) to a new website, in development
Planning a virtual Decision Day for each school to celebrate seniors at the end of the semester
Frequent and ongoing professional development and resource sharing for advisers
Regardless of the challenges that lie ahead, KSCAC will continue to ensure students are able to achieve their dreams for higher education. For more information or for related inquiries, please email Meaghan Higgins at mcbhiggins@ksu.edu.
Who We Are
The Kansas State College Advising Corps is a program within the Office of Student Success, and aims to increase the number of first-generation, low-income and underrepresented high school students entering and completing higher education. KSCAC hires recent college graduates to serve as college advisers full-time in select high schools in either Wyandotte or Johnson counties. The college adviser assists by providing guidance and encouragement needed for the students to navigate the college admissions and financial aid processes.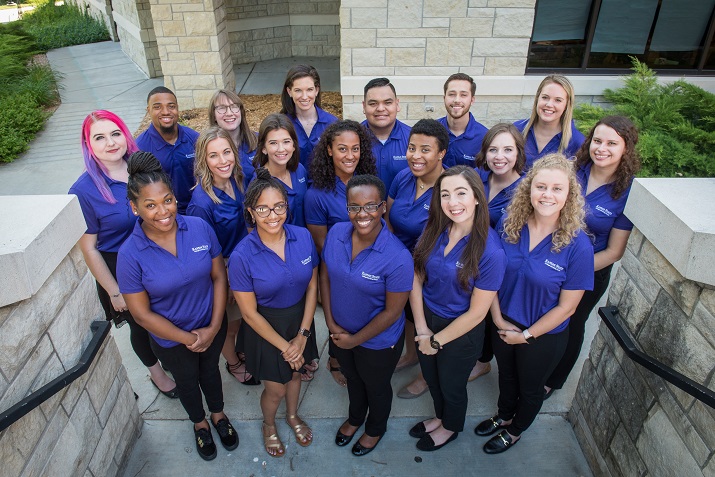 The Need
The need for this program stems from a shifting workforce development landscape. According to the Mid-American Regional Council, 34 percent of adults over the age of 25 in the Kansas City region have at least a bachelor's degree. In the last 10 years, 40 percent of new jobs created in the Kansas City region require a bachelor's degree.
Simultaneous to this evolving workforce landscape is the changing demographics of the U.S. and Greater Kansas City. The U.S. Census Bureau projects a significant shift in demographics. By 2050, the bureau projects black, Hispanic and Asian populations will comprise half of the U.S. population, while the number of white households is projected to decrease. Individuals in these diverse groups are often first-generation college students and unfamiliar with the application and scholarship processes needed to enter higher education.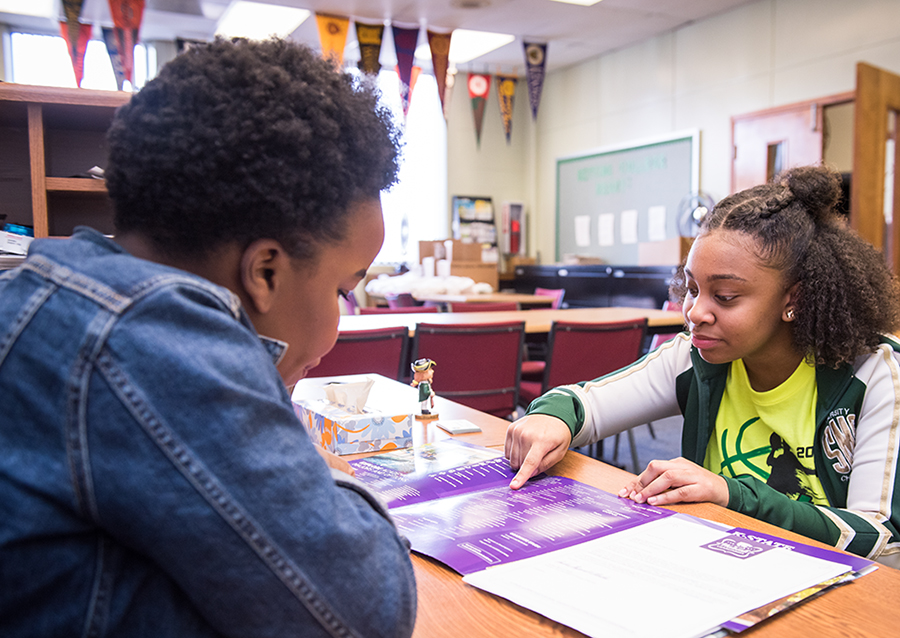 What We Do
Specific services provided by college advisers include:
one-on-one and group advisement
workshops for students and families surrounding college topics and issues
college and career exploration
college application completion assistance
ACT/SAT test fee waiver distribution and test registration
FAFSA completion assistance
scholarship assistance
campus tour planning and coordination
plan and coordinate college representative visits
College advisers teach students how to be resourceful and empower students to be self-advocates. Advisers work full-time in select partner high schools with 9th-12th grade students and occasionally provide early awareness outreach to middle school students. Advisers aim to help students find a "best-fit" post-secondary opportunity to increase the likelihood of persistence and completion rates. Additionally, advisers create and foster a college-going culture that engages administration, teachers, and staff that helps build an environment that encourages and supports college attendance and completion.
Interested in becoming an adviser?
Applications to become an adviser with Kansas State Collge Advising Corps are open. All recent graduates are encouraged to apply.
Want more information?
Please attend an informational session.