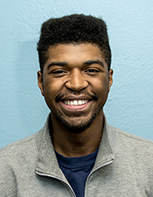 Chapman Center for Rural Studies intern, Anthony Porter, a 2016 K-State graduate, Bachelor of Arts (BA) in history, left a written legacy of his time with us. Anthony's study of the vanished community of Magic, Riley County, Kansas, appears in the May issue of Kansas Kin, published by the Riley County Genealogical Society (RCGS). "Magic: The Ultimate Vanishing Act" was an invited piece and marks the start of a fruitful collaboration between Chapman Center and RCGS.
We hope to offer more student work for inclusion in Kansas Kin as undergraduate researchers tackle the long-disappeared communities, villages, and trading centers of a lost Kansas landscape. Like many of our researchers, Anthony used both documentary and oral history sources, conducting interviews with Magic community descendants.
Through leads and contacts often suggested by RCGS, students learn to piece together the fascinating and sometimes quirky history of rural Kansas. Readers can also enjoy Anthony's study of Magic in our Lost Communities Archive, at http://lostkscommunities.omeka.net/items/show/180.(Click the link, scroll down below the featured photograph, and click the printer icon on the black top bar above the pdf-copy of Anthony's Magic paper. You can now print off and read Anthony's paper at your leisure.)
Coming Soon: make sure to catch Anthony's digital museum exhibit on the Quivira Society, an early 20th century amateur archaeology club in Wabaunsee County appearing later this summer in our Kansas History and Life Collection.