About
Human Capital Services is comprised of Talent Acquisition, Compensation and Organizational Effectiveness, Benefits, Learning and Development, Employee Relations and Engagement, and the Resource Center — which includes HRIS and Payroll. View the organizational chart (pdf) for the entire division.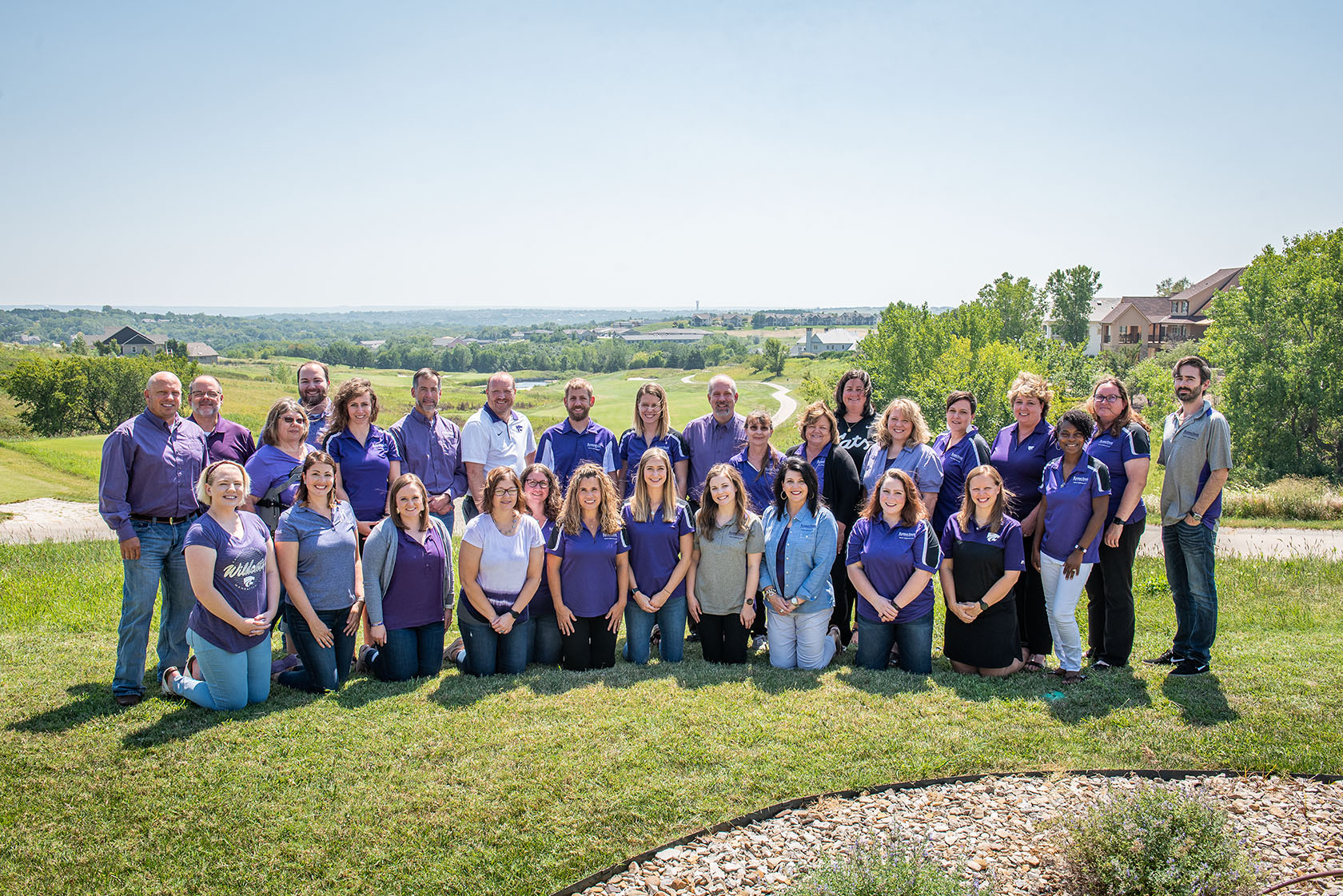 Human Capital Services Staff: Top Row(left to right): Josh Lee, David Brown, Anna Carroll, Dylan Dumler, Lindsey Fouquette, Paul Volino, Jay Stephens, Dustin Spear, Rachel Weis, Jason Talbert, Becky Beckley, Kristy Fronce, Kellie Wilson, Dedra Schweir, Mary-Beth Rhoads, Connie Pfaff-Eickhoff, Candy Walsh, Jeff Hauser. Bottom Row (left to right): Maggi Denton, Jenny Locanthi, Megan Eakin, Jaime Parker, Stacy Divine, Diana McElwain, Lauren Dewell, Greta Bauer, Shanna Legleiter, Emma McElhaney Parsley, Katie Prosowski, LaVerne Williamson.
Human Capital Service Areas of Expertise
Administration
| hr@ksu.edu
The Vice President for Human Capital Services is responsible for administering the human resource function for the university including benefits, payroll administration, employment, employee and labor relations, learning and development, classification and employee data. The vice president also serves as the co-chair for the university Climate Survey and is the current chair for the university Threat Management Team, providing guidance, interpretation and leadership as critical situations arise across campus. In addition, the administration team also oversees the K-State New Employee Welcome program and various Kansas State University staff awards.
Benefits
|
benefits@k-state.edu
The Benefits unit administers K-State benefits such as Kansas Public Employees Retirement System (KPERS), Kansas Board of Regents (KBOR) retirement plan, voluntary retirement and savings options, State Employee Health Plan, voluntary insurances, leave programs and more. The team provides education to employees regarding these benefits and ensures state and federal laws are adhered to. This team also designs and delivers the Live Your Best #PurpleIsProgress wellness programming to meet the holistic well-being of K-State employees.
Benefits can assist supervisors with identifying resources to support their employees. This unit counsels on appropriate use of leave, Family Medical Leave Act (FMLA) considerations, phased retirement, and when to utilize the Employee Assistance Program.
Compensation & Organizational Effectiveness
|
hrcomp@k-state.edu
The Compensation & Organizational Effectiveness team is responsible for managing and administering K-State's compensation and classification programs. These programs are designed to recognize, reward and retain a high-performing and diverse workforce while ensuring equity and regulatory compliance across the institution. This unit welcomes the opportunity to consult, partner and train with departments and leaders across campus to effectively manage their staff compensation and position structures.
Employee Relations
and Engagement
Employee Relations & Engagement provides consulting services on employee relations matters including policies and procedures, leadership development, mediation, dispute and conflict resolution, developmental and performance coaching, team or individual engagements, and interventions.  The unit also oversees labor relations and is responsible for negotiations with unions representing service and maintenance employees and university police offering guidance to all employees in the interpretation of memoranda of agreement and grievance resolution over interpretations of the memoranda. Employee Relations & Engagement also supports managers and supervisors in creating action plans to address performance and behavioral issues.  In addition, the unit is involved with addressing and engaging in discussion for accommodations as it relates to the Americans with Disabilities Act (ADA).
Learning and Development
|
learning-develop-hr@k-state.edu
The Learning and Development unit supports K-State employees in a variety of ways.  Learning and Development hosts a range of training offerings each year including Introduction to Supervision, Supervising Students on the Job, and Effective Stress Management.  In addition, the office coordinates professional development across the university including programming such as Directors' Roundtables and new leadership transition meetings.  Learning and Development staff can assist employees with information regarding LearnSmart and Fred Pryor Training Rewards accounts, both of which offer professional development to State employees at an affordable cost.  To find a list of offerings and the most up-to-date information, visit Learning and Development online. 
Resource Center and Operations
The Human Capital Services Resource Center and Operations team is the HR and Payroll transactional center for the university. This team delivers services for all aspects of payroll, personnel transactions, records management, compliance, and operational support for HRIS, forms, HCS web pages and ImageNow.  The Resource Center is also responsible to the HRIS system configuration and security. The team supports additional pay processing, College Work Study Program, direct deposit updates, duplicate/replacement W-2's, ad-hoc reports, HCS Forms, moving expense reimbursement, non-resident alien employment, leave accruals, payroll funding, paycheck data, and verification of employment.
Talent
Acquisition
|
kstatecareers@k-state.edu
The Talent Acquisition team serves as a strategic partner focused on creating innovative solutions that support recruitment initiatives. The unit assists colleges and departments to develop search strategies to attract a diverse pool of qualified and talented candidates. This unit welcomes an opportunity to consult or train others in the areas of the recruitment process search committee best practices.