KSU Architecture, Planning, and Design Experimental Green Roof
Description
The APDesign Experimental Green Roof was constructed during summer and fall 2017 and contains extensive, semi-intensive and intensive beds. It is located on top of Regnier Hall with limited access through the Ekdahl Conference Room. This roof will be the most scientifically studied green roof at K-State. Research started in 2018, and many sensors and instruments have been installed. It is hoped that research on this roof will improve understanding for green roof vegetation, substrate, or soil, types, and substrate depths for green roofs in the Flint Hills.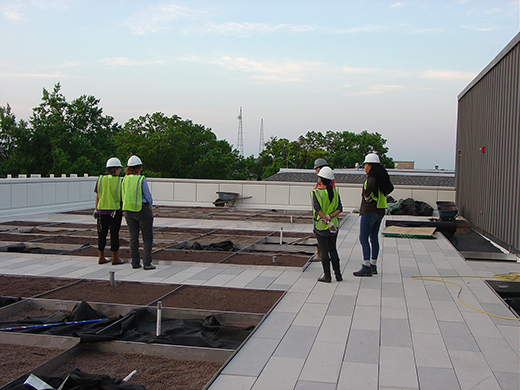 Design and Installation
On this roof, there are three green roof beds, each having three different substrate depths: 4, 6 and 8 inches. Each of these beds contain two different substrate types: Kansas BuildEx and Rooflite Extensive MC. The BuildEx has added sand, worm castings and peat moss mixed in to the expanded shale. In each substrate are three plant species mixes: an all Sedums mix, a Sedum and native grasses mix, and a native grasses and forbs mix. Each approximately 1.5-square-meter plot contains six species and 18 total plants. Each bed has 24 plots. This detailed design, completed with the help of a statistician, will help us understand how the different types of vegetation respond to the two different types of substrate and which depth it prefers.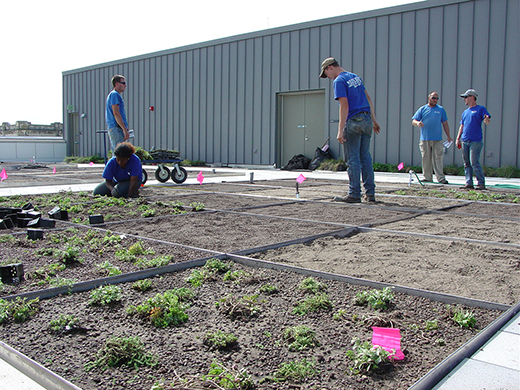 Research Intentions and Findings
This green roof provides an excellent opportunity to understand what vegetation works best on a flat green roof in the Flint Hills ecoregion. Long-term experimental studies of mixed-species green roof systems are being conducted to improve the design, implementation and management of green roofs in the Flint Hills ecoregion and other parts of the world with similar climates. This will be done by studying the relationships between micro-meteorological variables, the two regionally-supplied substrates and mixed-species performance. In March 2018, our team began investigating the relationships between different subsurface variables: substrate type, depth, and nutrients, changing moisture levels and temperature dynamics. METER Group Inc. equipment is being used on these green roofs, including five weather station sensors, 24 soil moisture and temperature sensors, four RT-1 soil temperature sensors and eight EM50-G dataloggers. We are also documenting the survival and health of individual species, and changes in vegetative coverage. Selected first-year data has been published -- https://doi.org/10.1016/j.scitotenv.2019.134089 -- so take a look!