GeoCAT workshop and Webinar Series
Would you like to participate in GeoCAT monthly webinars between June 2020 and May 2021? please email geocat@ksu.edu to join our listserve.
A National Problem
Of all the STEM majors at all levels of higher education, geosciences have the lowest ethnic and racial diversity (NCSES, 2015). The nature of the diversity problem in geosciences is complex, and a solution has been elusive. One of the main hurdles to geoscience student recruitment is lack of awareness of geoscience career options.
Project Goals
Introducing and familiarizing educators with geoscience careers will result in increased interest and enrollment of diverse student populations in geosciences across the state of Kansas.
Broader Impacts
Currently, the outlook for geoscience careers is promising within the U.S., the BLS projects employment of geoscientists to grow 10 percent from 2014 to 2024, faster than the average for all occupations. The emphasis on recruiting and supporting under-represented students from populations in STEM fields to major in geosciences is important to building a strong geosciences workforce in the future, particularly in Kansas, with industries that depend heavily on environmental and energy resources and their effective management.
GeoCAT June 22nd, 2020 webinar recording can be found here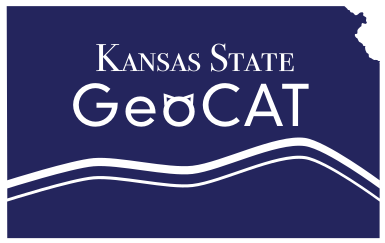 This project is supported by the National Science Foundation under Grant ICER-1911590 GP-IMPACT: GeoCAT Workshop: Geoscience Careers Ambassador Training Workshop