Support Categories
The Gardens are divided into three categories of need: Garden Area, Features, and Equipment & MNI. This helps continue our efforts to provide:
An invaluable educational tool and learning laboratory for K-State students from several departments across campus and visitors of all ages.
An opportunity for research, conservation, and environmental involvement.
A place of beauty for all to enjoy connecting the university with surrounding communities and beyond.
All categories are vital to the development, growth, and success of The Gardens.
Gifts are a wonderful way to honor a loved one, family or friend. Or perhaps, a gift could simply express appreciation for a place you enjoy and wish to support.
Garden Area
A gift to the Garden Areas represents sponsorship of the absolute essential garden ingredient - plant materials to enrich existing areas, build new areas, and bring future plans into the present.
Features
Features add beauty, information, or a place to relax and reflect. They are an important part of The Gardens and include: benches, sculptures, urns and planters, fountains, arbors, chairs, paved paths, boulders, etc. Features are frequently given in memory of a special person with informative plaques.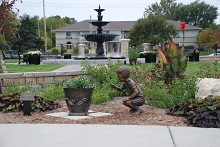 Equipment & Multiple Necessary Items (EMNI)
EMNI includes many items that are less glamorous, yet extremely important: irrigation systems, identification tags, tools, mowers, visitor center office equipment, display items, etc.
The Gardens would like to express gratitude and recognize individuals, groups and businesses who have helped us grow.