Rose
Announcement: Unfortunately, the Rose Garden is not at it's best in 2021. Many roses were infected with Rose Rosette disease, a virus spread by eriophyid mites, and removed. Annuals help fill out the Rose Garden.
In 1989, the Westervelt family donated the services of their company (Blueville Nursery) to install walkways for a garden area tucked back in a secluded location east of the Conservatory. The construction of this garden was the first in the new Gardens. With the sponsorship of Albert H. and Clare (Russell) Ottaway '28 in 1991, this secluded garden was developed into the new Rose Garden. Today, as part of its educational purpose, examples of different types of roses can be observed in a beautiful collection of over 100 rose plants.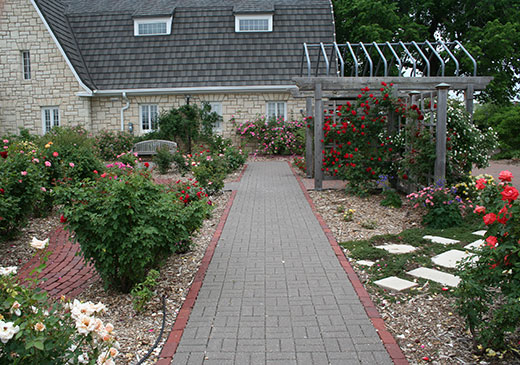 Rose galleries
Click the images below to view the roses in each bed.