Rose Collection
Announcement: The rose garden was devastated by rose rosette disease in 2019. Fortunately, rejuvenation of the rose garden was made possible by winning an Evergy contest in spring 2022. This resulted in 181 new rose plants and Evergy volunteers working with the staff and Purple Thumbs (garden volunteers) to prep the soil, plant, and refresh the area. New pictures and bed locations showing the changes will be available in 2023.
History: In 1989, the Westervelt family donated the services of their company (Blueville Nursery) to install walkways for a garden area tucked back in a secluded location east of the Conservatory. The construction of this garden was the first in the new Gardens. With the sponsorship of Albert H. and Clare (Russell) Ottaway '28 in 1991, this secluded garden was developed into the new Rose Garden. As part of its educational purpose, examples of different types of roses can be observed in a beautiful collection.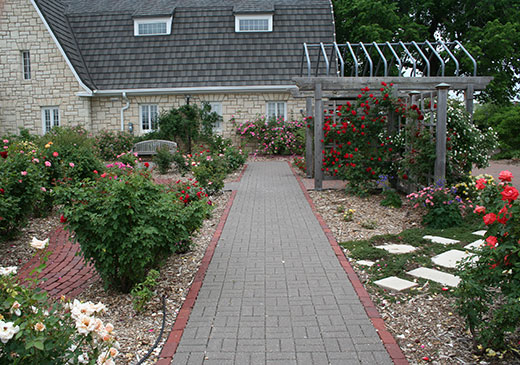 Rose galleries
Click the images below to view the roses in each bed prior to rose rosette. This will be updated in 2023.