Weddings
Weddings and receptions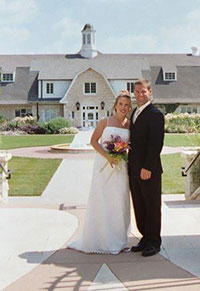 The Gardens are a popular choice for wedding day events with many inviting spots for small or large gatherings. The annual and perennial flower beds in the Cottage and Adaptive/Native Plant Gardens make a spectacular display of color. The beautiful architecture of the limestone visitor center; a rustic, flower-covered pergola; a private nook sprinkled with flowers and sheltered by ornamental trees and shrubs; a fountain surrounded by a lush lawn, and other lovely garden settings make a stunning backdrop for a ceremony.
Please review the Special Events Information form (pdf) and Rental Agreement form (pdf) for an event at The Gardens which presents guidelines and restrictions for hosting a wedding and/or reception.
View the What's in Bloom photo galleries to get a glimpse of The Gardens in different months.