K-State Speech and Hearing Center
Contact: 785-532-6879
Description: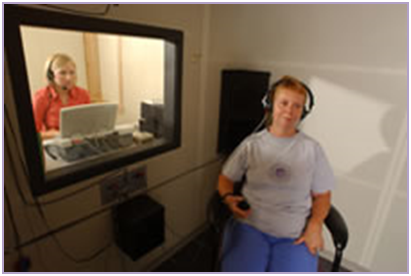 The two major goals of the K-State Speech and Hearing Center are to provide high quality, comprehensive services to individuals with communication or swallowing impairments and to provide graduate students with professional training in speech-language pathology and audiology. The Program is accredited by the Council on Academic Accreditation (CAA) in Audiology and Speech-Language Pathology of the American Speech-Language-Hearing Association. The Center provides more than 2800 treatment and diagnostic clinical services each year to individuals across the lifespan for communication and/or swallowing needs. Many clients live in the Manhattan area, while others travel to the Center from surrounding areas.
Website:
K-State Speech and Hearing Center
Program Partners:
The Center has clinical affiliations with a variety of professional sites including public school systems (e.g., Manhattan-Ogden, Wamego, Junction City, Topeka, & KC), acute care centers and rehabilitation hospitals (e.g., Mercy Regional Health Center, Stormont-Vail Hospital in Topeka, Via Christi in Wichita, St. Luke's Hospital in Kansas City, & Madonna Rehabilitation Hospital in Lincoln, NE). Other community partners include the Midwest Regional Fetal Alcohol Syndrome Training Center, Sertoma including the Sertoma Hearing Aid Recycling Program.
Institutional Impact Area(s):
K-State School of Family Studies; Hoeflin Stone House Early Childhood Education Center, K-State College of Education; K-State Research & Extension; K-State Dept. of Human Nutrition
Audience:
K-State students, individuals with speech and hearing difficulties
Tags:
Children, Youth, and Family (non-school related); Health and Health Care; Public Understanding and Adult Training; College of Education; College of Human Ecology; K-State Research and Extension;