IMHOTEP K-State's Black Male Initiative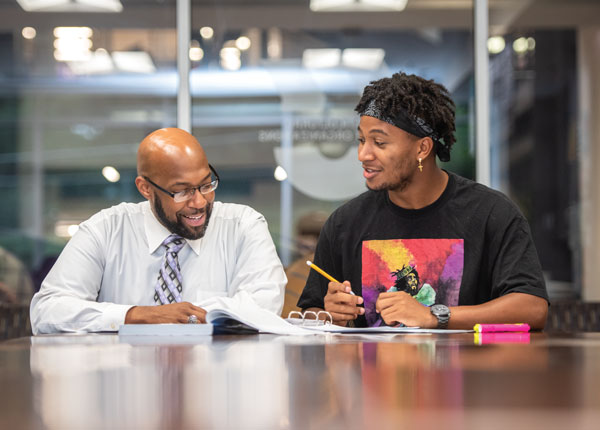 Mission
IMHOTEP Black Male Initiative is a mentoring program for K-State's Black male students. IMHOTEP seeks to increase the success of Black males by focusing on retention, persistence, community uplift, cultural enrichment, career or graduate school placement, and degree completion.
---
IMHOTEP Pillars:
Encouraging Cultural Engagement and Community Uplift.
IMHOTEP provides students with community uplift and cultural enrichment through regular group meetings, taking students on one cultural trip per year, and helping students give back to the community through one service/enrichment activity per year.
Persistence and Support.
IMHOTEP seeks to aid in student persistence and support by aiding in the development of life and professional development skills, career exploration opportunities. and organizing cohort groups for Freshman, Sophomores, Juniors, Seniors, and non-traditional students.
Degree Completion.
IMHOTEP seeks to improve retention and graduation rates for Black male students by providing additional layers of academic preparation and enhancement, financial literacy to help students make well-informed decisions, and offering focused academic coaching.
Career or Graduate School Placement.
IMHOTEP connects students with the Office of Undergraduate Research and Creative Inquiry to inform about research opportunities and contribute to K-State's 2025 Visionary Goal of becoming a Top 50 Public Research University.
Additionally, IMHOTEP organizes career development activities for students and assists with professional school test preparation for exams such as the GRE, GMAT, MCAT, and LSAT.
Fall 2022 Meeting Schedule
All meetings take place in the Multicultural Student Center Room 204/205 from 6:30-8:00pm.
Monday, August 29th
Monday, September 12th
Monday, October 3rd
Monday, November 7th
Monday, December 5th
To get connected: email us, call 785-532-6436, or stop by Brandon Clark's office in the Multicultural Center (022).