COVID-19 | Summary of updates
The university's priority throughout this evolving situation will always be to protect the health and safety of everyone at K-State and in our communities. The most up-to-date information will be posted below. Please continue to check back for updates.
Latest updates
The university will combine its postponed spring 2020 commencement ceremonies with the fall 2020 ceremonies, which will be Dec. 11 and 12 on the Polytechnic and Manhattan campuses. K-State's spring 2020 ceremonies, previously set for May 9, 15 and 16, were postponed when the university moved to limited operations for the rest of the spring semester.

The university plans to maintain its limited operations status through the end of the semester, based on the latest guidance from the Centers for Disease Control and Prevention and Kansas Gov. Laura Kelly. K-State will follow the guidance regarding events and mass gatherings for the next eight weeks.
These steps are based on recommendations from K-State's Emergency Management Working Group. That group continues to meet daily to make recommendations for university operations adjustments as needed.
Information from official sources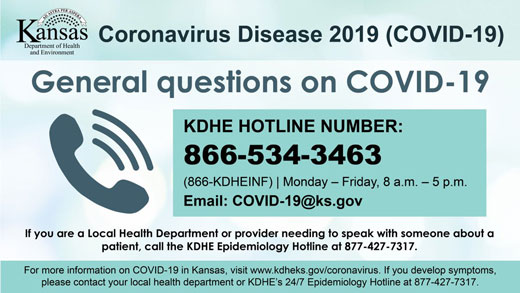 Previous updates
Employee roles during Stay at Home order in K-State Today Special Issue (March 28, 2020)
Faculty and staff to remain off campus unless deemed mission critical in K-State Today Special Issue (March 18, 2020)
Kansas State University initiates hiring freeze in K-State Today Special Issue (March 18, 2020)
Move-out plan for residence halls; students to receive prorated refunds in K-State Today Special Issue (March 18, 2020)
Kansas State University to limit operations through end of semester in K-State Today Special Issue (March 16, 2020)
Limited operations status for all campuses in K-State Today Special Issue (March 15, 2020)
K-State announces limited operations for on-campus housing in K-State Today Special Issue (March 14, 2020)
All K-State in-person events and meetings canceled in K-State Today Special Issue (March 14, 2020)
University bans all university-affiliated or sponsored travel in K-State Today Special Issue (March 14, 2020)
President Richard Myers issues guidance to students on returning to campus communities in K-State Today Special Issue (March 13, 2020)
Practice social distancing to mitigate spread of novel coronavirus in K-State Today for Students (March 13, 2020)
Kansas State University suspending in-person classes from news and communications services (March 12, 2020)
Urgent message from President Myers regarding novel coronavirus (COVID-19) in K-State Today Special Issue (March 12, 2020)
Coronavirus, COVID-19 update on university planning in K-State Today (March 11, 2020)
Employee questions about COVID-19 answered in K-State Today (March 10, 2020)
Mitigating impacts to student instruction due to COVID-19 in K-State Today (March 6, 2020)
Share facts, not fear of coronavirus in K-State Today (March 6, 2020)
University issues travel ban for countries with warnings in K-State Today (March 5, 2020)
Spring break and COVID-19 in K-State Today (March 4, 2020)
Coronavirus, COVID-19 update for K-Staters in K-State Today (Feb. 28, 2020)
University licenses technology for coronavirus and norovirus compounds from news and communications services (Feb. 28, 2020)
Coronavirus update from Lafene Health Center in K-State Today (Feb. 17, 2020)
Message from KDHE on coronavirus in K-State Today (Jan. 29, 2020)
KDHE update on coronavirus for universities in K-State Today (Jan. 27, 2020)
Update on coronavirus in K-State Today (Jan. 24, 2020)