Face coverings
Policy
Everyone — faculty, staff, students, contractors, vendors and visitors — must wear face coverings over their mouths and noses in all indoor and outdoor spaces while you are on university property unless you are alone in your own private office or work space or are alone outdoors.
Exceptions to the face coverings requirement on university property will be rare, limited to students sharing a residence hall room or apartment while in that space or to individuals with a need for reasonable accommodations for documented medical conditions. Individuals seeking such an accommodation should contact the ADA coordinator at charlott@k-state.edu (for employees or visitors) or the Student Access Center , or SAC, at accesscenter@k-state.edu (for students) for assistance.
Frequently asked questions
General questions
Student and campus life
Faculty and staff guidance
Working on campus
Enforcement
Exemptions
Pocket Card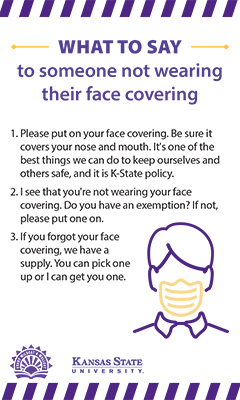 Students, faculty and staff can download a digital version of a pocket card that details what to say to someone who is not wearing a face covering.
Physical versions of the cards have been distributed to employees at the Manhattan, Polytechnic and Olathe campuses.