About COVID-19
Coronaviruses are a large family of viruses, some causing illness in people and others that circulate among animals. Rarely, animal coronaviruses can evolve and infect people and then spread between people such as has been seen with MERS and SARS.
The Centers for Disease Control and Prevention is closely monitoring an outbreak of COVID-19 caused by novel coronavirus in Wuhan City, Hubei Province, China. The first case in the United States was announced on Jan. 21 in the state of Washington. This situation is rapidly changing and the CDC's COVID-19 in the U.S. webpage will have the most updated number of confirmed and presumptive positive cases.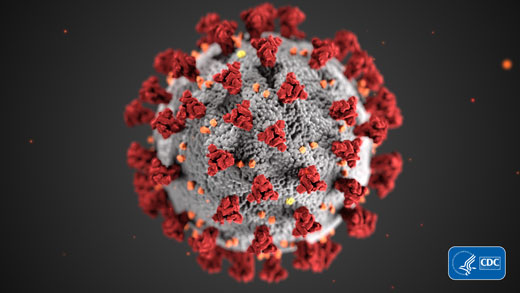 This illustration, created at the CDC, is of the novel coronavirus, named Severe Acute Respiratory Syndrome coronavirus 2, or SARS-CoV-2, which causes the illness COVID-19.
Every K-Stater can help protect the family
Everyone can help maintain a healthy community and reduce illness with simple healthy practices, adhering to travel guidelines and reducing contact with others when sick. Lafene Health Center is available to any K-State faculty, staff or student who may have questions, concerns or exhibit symptoms of any illness.