Dr. Christer Aakeröy

University Distinguished Professor and Head
CBC 213 (Head) & CBC 328
785-532-6668 (Dept Office)
aakeroy@ksu.edu
Research Themes
785-532-6061 (lab)
Biography

2022-Pres.
2012-2022
2006-2012
2001-2005
1996-2000
1993-1996
1992
1991
1986-1990
1982-1986
University Distinguished Professor and Department Head
University Distinguished Professor
Professor
Associate Professor
Assistant Professor
Lecturer in Chemistry, The Queen's University of Belfast
Research Associate, University of Minnesota, MN
Postdoctoral Researcher, University of Sussex, UK
D. Phil., University of Sussex, UK
M. Sc. Uppsala University, Sweden
Research Overview
Chemistry is the science of communication and change, and these interrelated processes are controlled by reversible interactions between molecules. Our ability to design and synthesize discrete molecular species has developed for over a century, and today we are capable of making extraordinary molecules that rival some of Nature's best efforts when it comes to structural complexity and chemical reactivity. However, the synthesis of supramolecular assemblies composed of many different molecular fragments held together by non-covalent forces, is far less advanced, and our understanding of how groups of molecules communicate, bind, organize, and function, is still incomplete.
In our group we synthesize new organic molecules as well as coordination complexes using both conventional and mechanochemical synthetic protocols and subsequently we employ non-covalent interactions (such as hydrogen- and halogen bonds) to assemble molecular building blocks into supramolecular architectures with precise dimensions, topologies, and motifs.
Control over the assembly of molecules into extended networks is rapidly becoming an important target in both materials chemistry and biotechnology and through systematic structural studies we then correlate a wide variety of physical properties of the bulk materials with specific features of the individual building blocks. By translating molecular function into predictable intermolecular recognition we can create versatile pathways for improving processing, performance and shelf-life of a wide range of specialty chemicals such as pharmaceuticals, agrochemicals, dyes, non-linear optical and energetic materials.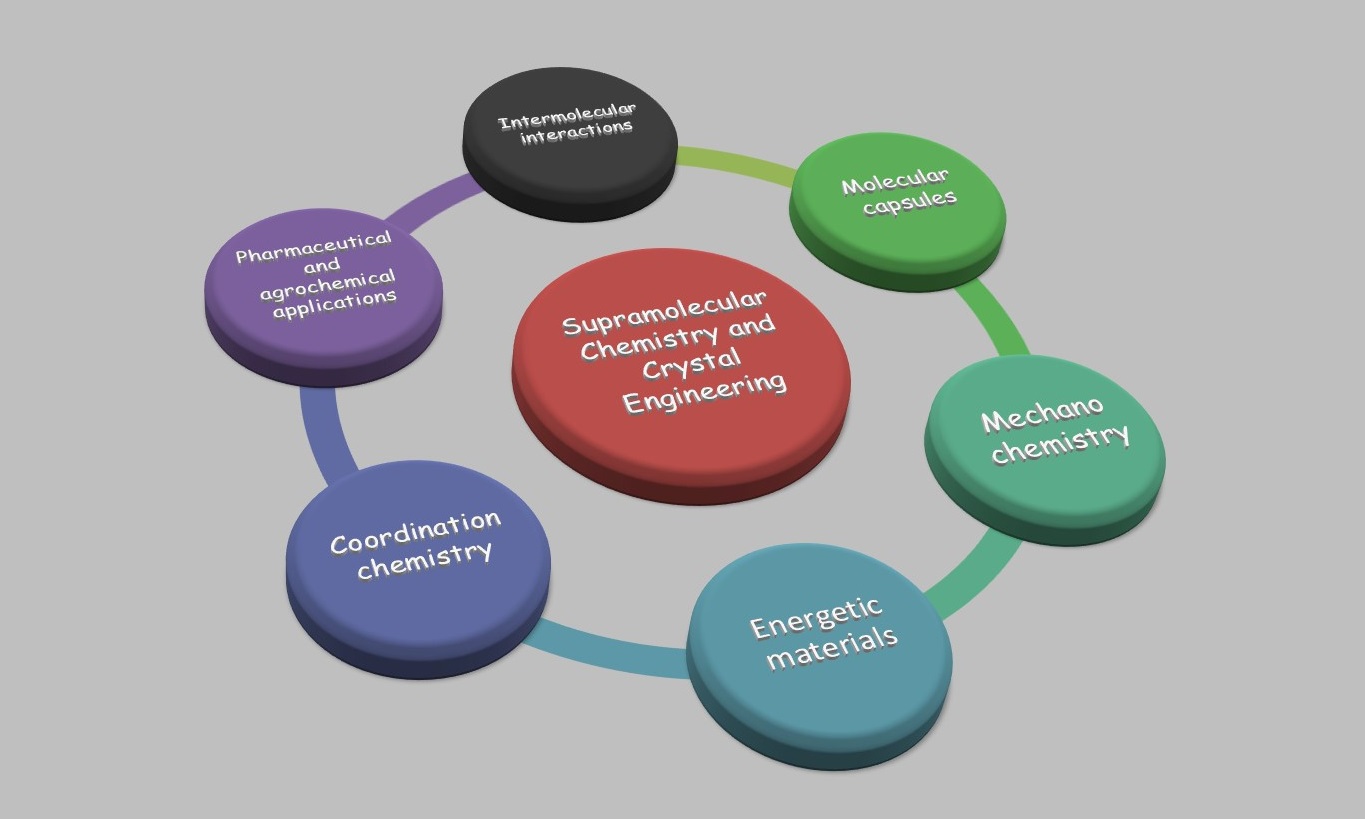 Selected publications
Abeysekera, A.M., Day, V.W., Sinha, A.S., Aakeröy, C.B. Mapping out the relative influence of hydrogen and halogen bonds in crystal structures of a family of amide-substituted pyridines, Cryst. Growth&Des. 2020, 20, 7399–7410. https://doi.org/10.1021/acs.cgd.0c01086
Gunawardana, C.A., Sinha, S.A., Reinheimer, E.W., Aakeröy, C.B., From frustrated packing to tecton-driven porous molecular solids. Chemistry 2020, 2, 179–192; https://doi:10.3390/chemistry2010011
Sarkar, N., Mitra, J., Vittengl, M., Berndt, L., Aakeröy, C.B., A user-friendly application for predicting the outcome of co-crystallizations, CrystEngComm, 2020, 22, 6776-6779. https://doi: 10.1039/D0CE01074J
Aakeröy, C.B., Bryce, D.L., Desiraju, G.R., Frontera, A., Legon, A.C., Nicotra, F., Rissanen, K., Scheiner, S., Terraneo, G., Metrangolo, P., Resnati, G., Definition of the chalcogen bond, Pure and Applied Chemistry, 2019, 91, 1889-1892.
Sandhu, B., Sinha, A.S., Desper, J., Aakeröy, C.B., Modulating physical properties of solid forms of urea using co-crystallization technology, ChemComm, 2018, 4657-4660.
Gunawardana, C.A., Aakeröy, C.B., Co-crystal synthesis: Fact, fancy, and great expectations, ChemComm, 2018 , 54, 14047-14060.
Gunawardana, C.A., Ðaković, M., Aakeröy, C.B., Diamondoid architectures from halogen-bonded halides, ChemComm , 2018, 54, 607-610.