"Search for Simurgh" to Bring Collaboration Between Performance Art and STEM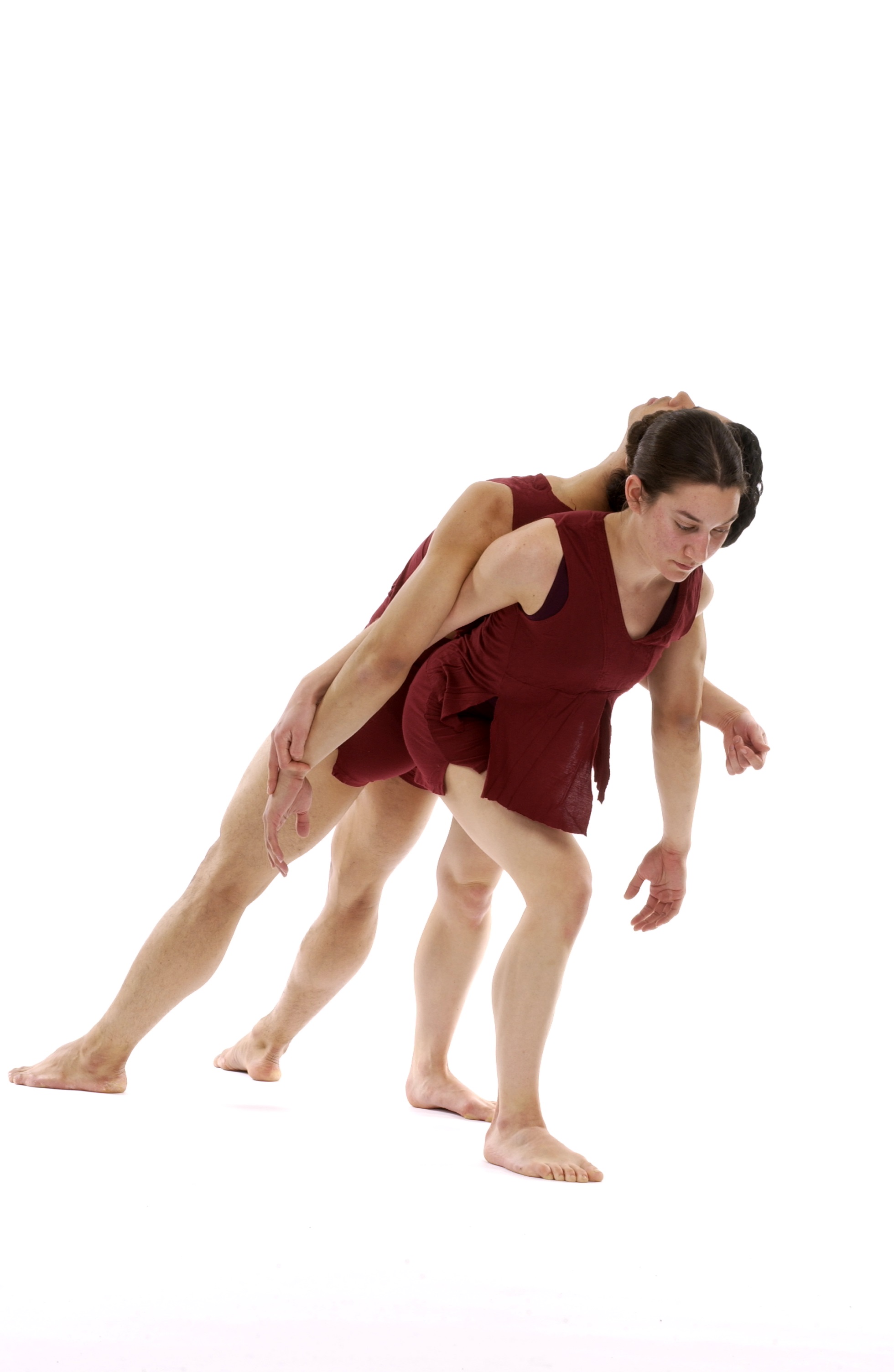 Photo credit: Kimberly Miller and Rick Vigo in a study of movement for "Search for Simurgh"; photo by Farnsworth/Blalock photography
Kate Digby, assistant professor of dance in the Kansas State University School of Music, Theatre, and Dance, was recently approved for a $15,000 Art Works grant from the National Endowment for the Arts (NEA) to help develop "Search for Simurgh," an interactive performance installation that will bring together many different disciplines. The project is in posthumous collaboration with, and in tribute to, Iranian-Canadian artist and writer Roya Movafegh, who passed away in 2015.
"I first met Roya through the Baha'i community of New York City. We shared a strong intuitive connection from the moment we met. Soon we were giving each other feedback on our artistic works. She was just beginning to write The People With No Camel, and I was working on a dance piece "Here/Waiting." She'd send me chapters of her book to read and would come to observe rehearsals of my dance. Neither of us had any experience in the other's art form, but somehow we understood the essence of each other's vision," Digby said. "In 2013, Roya invited me to collaborate on a theatrical piece that would bring the allegorical tale about freedom at the end of her novel to life. She wanted to print her bark photos onto sheaths of metal and have sound sources hidden within them so the trees would talk. I wanted to have dancers interspersed throughout the 'forest' as if they were also trees, but trees that could eventually come to life."
The vision for the project is that audience members will enter the performance space and interact with dancers, sculpture, and other digital media that incorporates output from participant's biometric data. "There are many ideas floating around for the aesthetic of the final production and it is a bit premature to put anything in writing because we haven't even started rehearsals yet…but, one thing that's clear is that a portion of this piece will live in a sort of fantasy world. Vibrant creatures will shift from human to animal to landscape and back again, and this shape-shifting will be supported by the costume design and digital media integration," Digby added.
From a community engagement standpoint, Digby is very excited to be creating a piece that the audience will be in, rather than observing from a seat in a theater. She imagines the piece being "installed" in a gallery where the audience can walk through the piece and interact with the performers. Although some will prefer the option to sit, they can still be in the middle of the action. Attendees will also likely participate in the creation of some of the content of the piece, whether that is through drawing, or making sound, or simply through their movement in the space. She sees the audience as the main character of the work – so they are experiencing the journey firsthand.
On the challenges of collaborating with STEM researchers for this project, Digby said, "I am very fortunate that all three of the STEM collaborators on this project are also artists, so we have fantastic synergy. One issue we run into regularly is that sometimes the coding and calibration of the technical end of things takes a long time, and for dancers and actors, once we get our bodies warmed up and ready to go we need to dive into the material. There's kind of an expiration on our physical capacity to be at full steam. So, when we have to stop and stand still while the biosensors are re-calibrated to our heartbeat, for example, our muscles get cold, and then we have to start all over with warming up again. We also have run into some challenges with wires. The wireless instruments are infinitely more expensive than the wired one, so we've been working primarily with wired – in one of our first experiments in June 2016, we had 6 performers hooked up to one hub all improvising our movement through the space – there were some tangles! One thing that's really exciting about the collaboration is that it goes in both directions – as we discover challenges through the artistic process, the STEM collaborators are inspired to develop new methods and instruments to support the process and those developments can serve many other research projects beyond ours." More information on the collaborators can be found in the original news article by Sarah Hancock: https://www.k-state.edu/today/announcement.php?id=3960.
Professor Digby is also exploring the possibility of setting up the entrance to the installation as if it is the entry to an office where audience members will find out if their (fictional) application for asylum will be granted. She adds, "There is a very poignant moment in The People With No Camel where she describes the experience of waiting for her family's asylum decision as a 10 year old, and the sense that she was leaving behind a portion of her identity. "Search for Simurgh" is an investigation of freedom, and the experience that Roya had of being forced from her homeland due to persecution is one that so many people continue to endure today. Working on the project with Roya as she faced a life-threatening illness allowed me to see parallels between that journey and the journey of leaving behind one's earthly home. There is something so profound in that process of letting go, of everything, that speaks to the essence of freedom. Is freedom being able to do whatever we want, whenever we want to? Or does freedom come from detachment from all things? Obviously, I'm not promoting death as the way to achieve true freedom, so how does one move towards that kind of liberating detachment while living? I don't claim to have the answers here, and won't be presenting them in the work, but I do hope the piece will stimulates reflection on these ideas – and not from a heady intellectual place, but from a heartfelt embodied place. I hope people leave the performance installation in contact with their feelings, with some sense of connection to others, and with some questions on their heart about what it means to be free and what our responsibility is to do with the freedom we have."
Make sure to keep an eye out for "Search for Simurgh" performances in the next few years. Meanwhile, check out Professor Digby's piece "Here/Waiting" when her students perform it at the Spring Dance concert at McCain April 6-7, 2018!
- Jael Whitney, CECD Cultural Arts Engagement Intern