Community Resources
The Flint Hills Breadbasket is a Community Food Network that was founded in 1983 in a small shed in which the City of Manhattan housed machinery. Since then they have grown, and continue to offer much needed food to those in need through community donations and volunteer support. Hunger is oftentimes an invisible tragedy, and for over thirty-two years the Flint Hills Breadbasket has been collecting and distributing food to ensure that no one in the community goes hungry. The Breadbasket offers a wide range of programs including an Emergency Food Pantry, the Kid's Backpack Meal program, and a Community Resource Referral program.
Monday-Friday 9:00-11:30 am
Emergency Pantry Monday-Thursday, 1:00-3:30 pm Friday 10:00-11:30 am, 1:00-3:00 pm
905 Yuma Street
Manhattan, KS 66502
785-537-0730
breadbasket.manhattanks.org
Community meals in Manhattan, KS.
Sun* 6-7 pm 700 Poyntz Ave - 1st Congregational
Mon 6-7 pm 301 N 4th St - Riley County Senior Center - Church of Jesus Christ Later Day Saints
Tues* 7-8:30 am 601 Poyntz Ave - St. Paul's Episcopal
Tues 6-7 pm 801 Leavenworth - 1st Presbyterian
Wed 7:30-8:15 am 801 Leavenworth - 1st Presbyterian
Wed* 6-7 pm 612 Poyntz Ave - 1st United Methodist
Thurs 6-7 pm 930 Poyntz Ave - 1st Lutheran
Fri 7-9 am 601 Poyntz Ave - St. Paul's Episcopal
Fri 6-7 pm 930 Poyntz Ave - 1st Lutheran
Sat 6-7 pm 612 Poyntz Ave - 1st United Methodist
*Sack Lunch Available
Harvesters Food Assistance Locator
Manhattan Mobile Food Pantry Schedule:
1st Friday 10 am 615 Gillespie Dr. - Manhattan Westview Community Church
2nd Thursday 10-11 am 303 Grant St. - Saint George United Methodist Church 11:30 am-1 pm Hwy 24 and Balderson Rd. - Wamego Sports Complex Lot
3rd Tuesday 10 am 1710 Avery Ave. - Manhattan CICO Park (west Kimball Ave)
4th Tuesday 10 am 229 Willow St. - Ogden Community Center 1-3 pm 3rd and Leavenworth - Manhattan Parking Lot
2nd Friday 4:30-5:30 pm 835 Church Ave - Manhattan Blue Valley Memorial UMC
On-Campus three times per semester with HandsOn K-State.
If you're free this semester on Fridays between 11:30 and 1:00 p.m. come to the ECM Campus Center and enjoy a "Real Food Lunch" with friends, old and new. The idea for a "Real Food Lunch" grew out of conversations in Spring 2010 among several ECM student leaders, who wanted to combine their love of spending time with friends with their growing commitment to eating healthier and more diverse foods. So they came up with this idea to offer a no-fee-donation-only meal each week at ECM where everyone is welcome, featuring as much locally grown, fresh produce as possible. Participants can help with the chores of setting up beforehand, preparing the meals with food purchased via donations and cleaning up afterwards.
The United States Department of Agriculture's (USDA) Supplemental Nutrition Assistance Program (SNAP), formerly known as the Food Stamp Program, provides qualifying low-income households with food benefits, access to a healthy diet and education on food preparation and nutrition. In Kansas, the program is known as the Food Assistance Program.
The Food Assistance Program serves as the first line of defense against hunger. It provides crucial support to elderly households, to low-income working households, to other low income households that include the unemployed or disabled and to households transitioning from welfare to work. Food assistance customers can spend their benefits to buy eligible nutritious food and plants and seeds to grow food for their household to eat.
Check eligibility or to apply for benefits.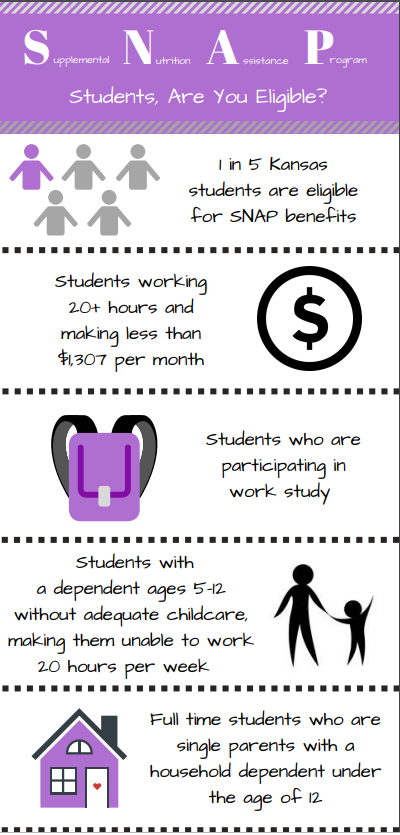 WIC is a nutrition program that provides nutrition and health education, healthy food and other services to Kansas families who qualify. WIC stands for Women, Infants and Children.
WIC's goal is to help keep pregnant and breastfeeding women, new moms, and kids under age 5 healthy. To do this, WIC provides:
Personalized nutrition information and support
Checks to buy healthy food
Tips for eating well to improve health
Referrals for services that can benefit the whole family
WIC also offers immunization screening and referral, breastfeeding support, and nutrition and health classes on a variety of topics including meal planning, maintaining a healthy weight, picky eaters, caring for a new baby, shopping on a budget and more.
Shelter, Medical, and Dental Assstance
Manhattan Emergency Shelter INC - 416 S. 4th St., 785-537-3113
Flint Hills Community Clinic - Downstairs 401 Houston St., 785-323-4351
Konza Dental Clinic - 2030 Tecumseh Rd., 785-320-7134
Pawnee Mental Health Services - 2001 Claflin Rd., 785-587-4310
24 Hour Domestic Abuse Sexual Assault Crisis Center, 785-539-2785
Fixed Route Services
Monday - Friday, 7 am-7 pm;
Saturdays, 8 am-7 pm
$1.00 single ride for adult, $.50 single ride for youth 6-18, under 6 ride free.
All children younger than 14 must be accompanied by an adult.
Monthly passes can be purchased for $30.00 at the aTa Bus offices, Dillon's in Manhattan, Hy-Vee, or Manhattan Town Center.
Demand Response Service is also available by calling 785-537-6345.
More information and fixed routes.
**AUGUST IS FREE FARE MONTH**
Ogden and Manhattan - Give aTa Bus a go and ride any fixed route service for FREE for the ENTIRE MONTH of August!