Move Out for Hunger
For the last two semesters, Food Recovery Network (FRN) has partnered with Cats' Cupboard and Housing & Dining Services to host Move Out for Hunger. During finals week, students donate food, unopened hygiene products, and gently-used kitchen appliances by placing the items in MOH donation boxes in the lobby of each dorm. Volunteers collect all the items, deliver them to Cats' Cupboard, and record the weight of food collected for FRN records. In Spring 2021 (the first time we ever hosted this event), we recovered almost 700 pounds of food from our K-State students that directly helps those who may be food insecure on our campus!!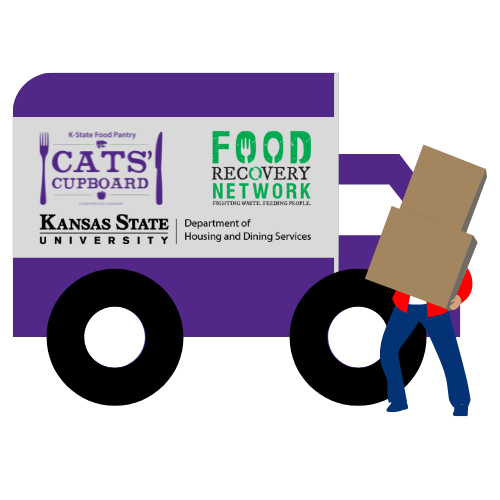 Spring 2022 Move Out for Hunger
Donation drop boxes are located in the lobby of each residence hall on campus for students to donate items as they move out from May 9-14. Items accepted include:
Unopened, non-perishable food items
Unopened hygiene products
New or gently used kitchen/household appliances
Most needed items include:
Microwaves
Can openers (manual and electric)
Dish soap
Toothpaste
Deodorant
Ramen noodles
Shelf-stable milk
Gluten-free items
Shampoo
Conditioner
Hand soap
Items that cannot be accepted include:
Perishable foods
Used hygiene products
Clothes
School supplies
Items can also be dropped off at Cats' Cupboard during their regular hours. Cats' Cupboard is open Monday through Thursday from 10 AM to 6 PM and Friday from 10 AM to 2 PM. Summer hours will go into effect beginning May 16 and Cats' Cupboard will be open from 10 AM to 2 PM Monday through Friday. Be sure to tell staff you are dropping off for Move Out for Hunger!