Little Budget Big Bounty
The K-State Parents and Family Program (PFP) and Cats' Cupboard are teaming up with up with Manhattan Big Brothers Big Sisters and Mama Fang's to host the "Little Budget Big Bounty" event. With gift cards donated from Mama Fang's and the PFP, pairs can shop for items on the Cats' Cupboard Wishlist. Bigs and Littles will create a budget, find items, and complete a transaction. All items purchased will be donated to the K-State Cats' Cupboard.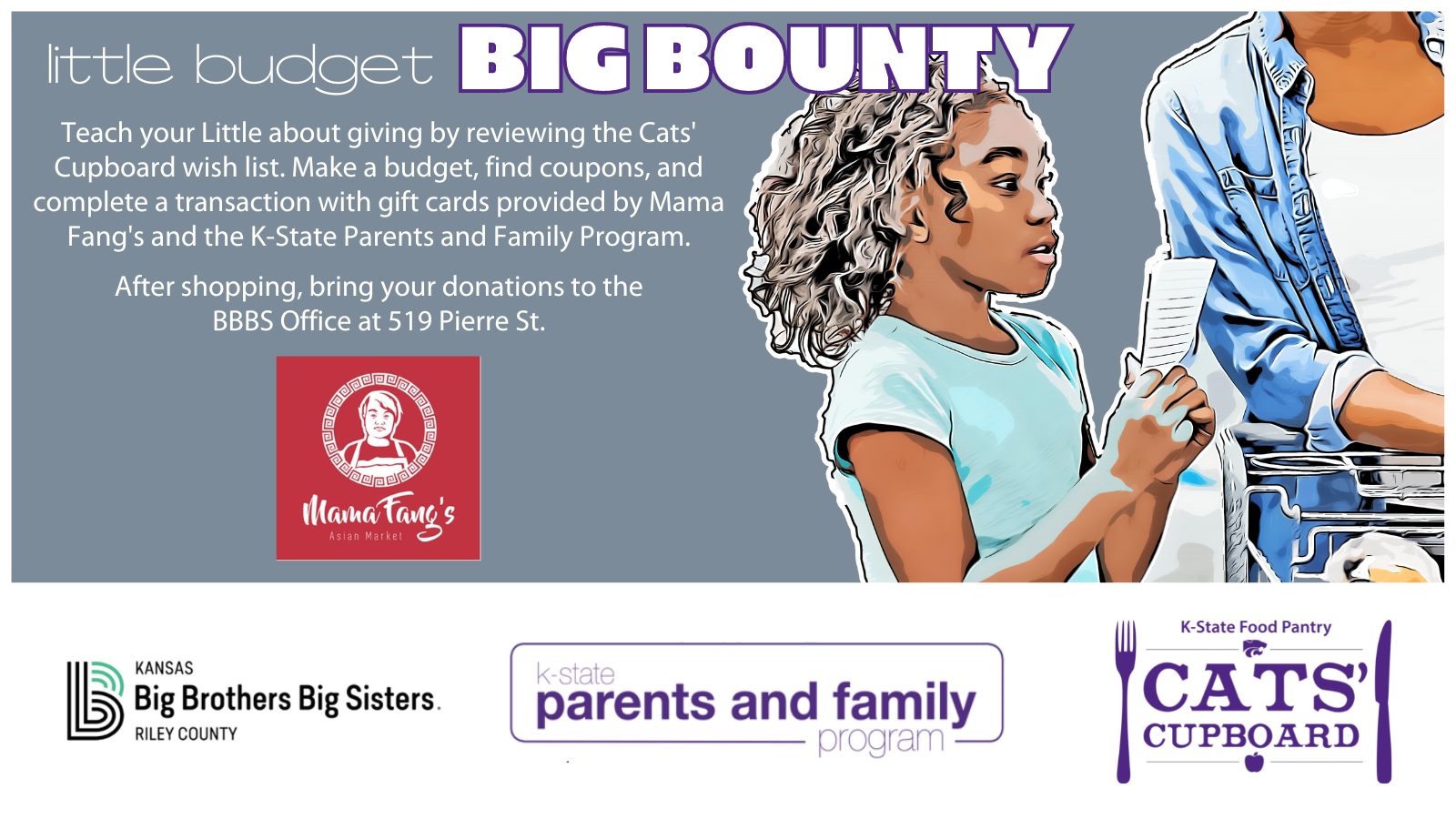 Instructions for Participants
Before you shop!
Pick up your Little Budget Big Bounty Packet from Big Brothers Big Sisters.
Locate the smaller envelope which contains the Mama Fang's gift card and tax-exempt number.
Review the Cats' Cupboard Wishlist - these are items we want you to purchase for your donations.
Use the Big and Little Budget Sheet to help your Little make a shopping list and budget. Remember - you do not have to budget for tax. These purchases will be tax free.
Transaction Checklist:
You must complete all steps on this envelope. Check off each step as you go.
Please only purchase items from the Cats' Cupboard Wishlist.
You cannot pay tax on this donation. When you check out, you must tell the cashier "This purchase is tax exempt".
Mama Fang's cashiers will ask for the Tax-Exempt Number located on the gift card envelope.
Grocery receipt will print, and cashier will provide a tax-exempt form. You will sign with your name, and hand it back to Mama Fang's. (This is used to help Mama Fang's keep track of their tax-free transactions).
Place the used gift card and receipt back in the envelope (even if the card is at zero balance).
Text your Match Support Supervisor (MSS) to schedule a time to drop off donations at the Big Brother Big Sister House at 519 Pierre St.
Turn in this envelope with the receipt and leftover gift card (even if the card is at zero balance) at the Big Brothers Big Sisters House.
Sign below
I followed the above eight (8) steps__________________________.
If you have a question about the above process, please call or text Skylar at (785)422-9531.
If you take any pictures of your shopping trip, feel free to use the hashtag:#LittleBudgetBigBounty