Recent Department Achievements

Faculty Achievements | Student Awards | Publications | Presentations | Research and Exhibitions
Brian Geisbrecht named Biochemistry & Molecular Biophysics' Newest University Distinguished Professor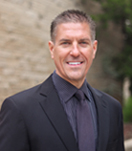 As one of the world's experts on the structure and biochemistry of proteins that function in the innate immune system, Dr. Brian Geisbrecht has received the lifetime honor of K-State's highest faculty title, university distinguished professor. He studies molecules produced by pathogenic bacteria that block activity of these innate immune components to understand their interactions and use that information as a basis for therapeutic discovery and development.
Since joining BMB in 2013, Geisbrecht has received NIH support of $5.8 million for his work. He has published numerous articles in prestigious journals including Journal of Immunology, Journal of Biological Chemistry and Proceedings of the National Academy of Sciences. Geisbrecht has served on national and international grant review panels and editorial boards of respected scientific journals. He has been invited to present at conferences and meetings across the U.S. and world. He has mentored four postdoctoral fellows, nine graduate students and 27 undergraduate researchers in his laboratory. Photo and story courtesy of K-State News.
Faculty Achievements
Erika Geisbreacht awarded National Institute of Arthritis and Musculoskeletal and Skin Diseases (NIAMS) Supplement to Advance Research (STAR) from projects to programs. She leads an NIAMS-supported research project using the Drosophila model to determine mechanisms that prevent protein aggregation, and ultimately cellular degeneration, in muscle.
Anna Zolkiewska received an R21 grant from the National Institute of Allergy and Infectious Diseases entitled "Mechanistic links between mutations in the CLPB gene and congenital neutropenia".
Phillip E. Klebba, Salete M. Newton, Brittany L. Nairn*, and Mathew Hansen* received a patent for "High-Throughput Fluorescent Screening Assay for Inhibitors of Gram-Negative Bacterial Iron Uptake"
* No longer at K-State.
John M. Tomich, Gerald Reeck (deceased), Adriana Avila Flores* and Chandrasekar Raman* received a patent for "Nucleic Acid-Peptide Capsule Complexes." K-State Today
*No longer at K-State.
Anna Zolkiewska was one of four featured investigators in "Angles of Attack" in the Spring 2022 edition of K-State's SEEK magazine.
Erika Geisbrecht was featured in "Trimming Cancer: Biochemist discovers protein involved in normal and abnormal cell growth" in the 2022 edition of K-State Johnson Cancer Center's Conquest magazine.
Mike Kanost received a National Institutes of Health, MIRA grant entiltled "Function of hemolymph plasma proteins in insect immune responses."
Anna Zolkiewska received the Flossie West Breast Cancer Research Award from the K-State Johnson Cancer Research Center for "Imunotherapies for Breast Cancer"
Student Awards and Scholarships
2020/2021 Biochemistry and Molecular Biophysics Charlie Hedgcoth, Jr. and Phillip Nordin Graduate Memorial Awards for Excellence
Jacob Weber (grad, Gorman), Xin Xu (grad, B. Geisbrecht) and Yao Yan (grad, Finnigan) were awarded the Excellence in Graduate Research.
Other Student Awards
BMB undergrads Michael Bartkowski (Baral, biology) and Samira Laytimi (Schrick, biology) received Summer Undergraduate Research Awards from the College of Arts and Sciences.
Dreah Kuckelman (undergrad, biochemistry) was inducted into the Kansas State University chapter of Phi Beta Kappa, the nation's oldest and most prestigious academic honor society. K-State News
Ruth Mekuria (undergrad, biochemistry) was awarded the Above and Beyond Award from Developing Scholars. This award recognizes scholars who have done well in their research and beyond. K-State Today
BMB undergrad Samira Laytimi, (Schrick, biology) was awarded a Spring 2022 OURCI Research/Creative Activity grant from the Office of Undergraduate Research and Creative Inquiry.
Carson Gido (undergrad, biochemistry) received the Kim Dierks Tutor of Distinction scholarship. Gido tutored students in biology, biochemistry and chemistry courses at the Academic Achievement Center. K-State Today
Cole Hayden (Welti, biology) received a Spring Undergraduate Research Award from the College of Arts and Sciences.
BMB Undergrad Presents Research at the ASBMB Annual Meeting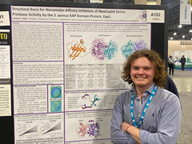 Carson Gido, junior in biochemistry, was selected to present his research poster "Structural Basis for Nanomolar-Affinity Inhibition of Neutrophil Serine Protease Activity by the S. aureus EAP Domain Protein, Eap1" at the American Society for Biochemistry and Molecular Biology Annual Meeting April 2-5 in Philadelphia. Gido works with Brian Geisbrecht studying a white blood cell enzyme that, when over-activated, can cause lung cancer and other lung diseases. Gido's research experience and travel to the meeting were supported by the K-State Johnson Cancer Research Center through an Undergraduate Cancer Research Award. Photo and story courtesy of K-State News.
Fall 2021 K-State Johnson Cancer Research Center Undergraduate Awards
K-State News. BMB undergraduate and mentor unless otherwise noted.
Kayden Creamer – Mentor: Ping Li (Chemistry) – "Continued efforts of PhaC crystallization for cancer drug delivery using PHA"
Mikaela Garcia-Escamilla – Mentor:Thomas Mueller (Biology) – "The role of tumor-suppressor gene Lhx6 during cellular migration of GABAergic interneurons in the zebrafish forebrain"
Carson Gido – Mentor: Brian Geisbrecht – "Inhibition of neutrophil serine proteases by EAP domain proteins"
Taryn Lubbers (Life Sciences) – Mentor: John Tomich – "Peptide nanocarrier delivery of mRNA vaccines for treating melanomas"
Hannah Miller – Mentor: Om Prakash – "Understanding the molecular recognition basis of EGFR inhibitors for cancer treatment"
Abigail Parker – Mentor: Ruth Welti (Biology) – "Subcellular localization of putative transacylase"
Mia Thompson – Mentor: Sherry Fleming (Biology) – "Macrophage Phenotypes in Mouse Melanoma"
Publications
Presentations
Yu Song successfully defended his doctoral disseratation entitled "Genome-wide Association Study of Lipidomes of Arabidopsis thaliana Accessions Identifies Genes Affecting Lipid Metabolism under Unstressed and Stressed Conditions" on July 20, 2022. Song completed his degree under the mentorship of Dr. Ruth Welti in the Division of Biology. Congratulations, Dr. Song!
Ye Zou successfully defended her doctoral dissertation entitled "The new insights into protein structures by computational methods" on April 26, 2022. Dr. Ho Leung Ng served as her faculty mentor. Congratulations Dr. Zou!
Yao Yan successfully defended her doctoral dissertation entitled "Development of CRISPR/Cas9-based gene drive biotechnology in S. cerevisiae on March 31, 2022. Her faculty advisor was Dr. Gregory Finningan. Congratulations Dr. Yan!
Mian Huang successfully defended her doctoral dissertation entitled "Structure-feature relationship of nuclear receptors and fluorescent proteins" on March 30, 2022. She was menotored by Dr. Ho Leung Ng. Congratulations Dr. Huang!
Xin Xu successfully defended her doctoral dissertation entitled "Structural and Functional Analysis of Complement Proteins" on November 19th, 2021, under the supervision of Dr. Brian Geisbrecht. Xin will be joining Bristol-Myers Squibb in Redwood City, CA as a staff scientist in January 2022. Congratulations Dr. Xu!
Jacob Weber successfully defended his doctoral dissertation entitled "Biochemical properties and physiological functions of extracellular iron-binding proteins" on August 27, 2021. Jacob was part of Dr. Maureen Gorman's research team. His work greatly increased our knowledge of the structure and function of insect transferrin, and his findings will be the basis of future research to understand iron homeostasis in insects. Congratulations, Jacob!
Ashish Kumar successfully defended his doctoral disseration entitled "Fluorescence Measurement of Metal Uptake by Pathogenic Bacteria" on August 9, 2021. Ashish worked in the lab of Dr. Phillip Klebba. Congratualations, Dr. Kumar!
Research and Exhibitions
Carson Gido (undergrad, Brian Geisbrecht) presented a poster, "Structural Basis for Nanomolar-Affinity Inhibition of Neutrophil Serine Protease Activity by the Staphylococcus aureus EAP Domain Protein, Eap1" at the American Society for Biochemistry and Moleccular Biology annual meeting in Philadelphia, PA on April 2-5, 2022.
Two BMB student researchers will present in Kansas Undergraduate Research Days virtual event March 1-3, 2022. K-State News

Carson Gido (Brian Geisbrecht) - "Inhibition of Neutrophil Serine Proteases by Staphylococcus aureus Extracellular Adherence Protein Domains."
Dewey Leierer (Brenda Oppert, USDA) - "Shotgun Metagenomic Case Study of a Yellow Mealworm (Tenebrio Molitor) Colony Collapse"

Hannah Miller (undergraduate, Prakash) presented "NMR Structural and Dynamics Studies of an Insect Cytokine-like Stress Responsive Peptide" at the 20th Annual K-INBRE, January 13th-14th, 2022. Authors: Hannah Miller, Nitin Mishra, Haobo Jiang and Om Prakash.