Research facilities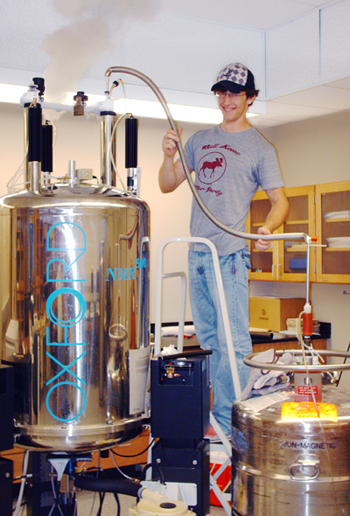 One of the unique features of the graduate program is the versatile collection of over two dozen faculty members formally associated with the Graduate Biochemistry Group. The faculty members are scientists from the Department of Biochemistry and Molecular Biophysics, the Division of Biology, the Departments of Grain Science and Industry, Chemistry, and Human Nutrition, and the College of Veterinary Medicine. Many other researchers with interests in biochemistry and molecular biology are collaborative investigators and participants on graduate student supervisory committees. The Graduate Biochemistry Group faculty members and their academic departments are noted for strong research programs in the basic and applied sciences. The research environment in biochemistry is exciting and vigorous because of these diverse yet interacting programs. Members of the Graduate Biochemistry Group currently receive well over $3 million a year in outside research funds. These funds support technicians, postdoctoral fellows, and graduate research assistants and are used to provide up-to-date research equipment and supplies.
The Department of Biochemistry and Molecular Biophysics has 14 large research facilities. Ten are located in Chalmers Hall. That building also houses the department's teaching laboratories. The other research suites are located in Burt Hall. The department is well equipped for advanced research in a wide range of areas. NMR studies are conducted within the Biomolecular NMR Facility use a latest 'state-of-the-art' 500 MHz Varian NMR Superconducting spectrometer system equipped with a pulsed field gradient accessory, a three channel detection system, two waveform detection generators, a 3mm [1H/ 13C/ 15N/ 31P] Penta probe, a 5mm [1H/ 13C/ 15N] triple resonance and indirect detection probe and a 5mm [15N-31P] broadband probe with high-stability temperature controller for multinuclear/multidimensional magnetic resonance techniques, along with molecular modeling softwares XPLOR/CNS, CHARMm/QUANTA, and SYBYL to solve structual and dynamics problems in molecular pharmacology, rational drug design, protein folding, and solution phase biostructure. Other biophysical studies are conducted with conventional and magnetic circular dichroism, fluorescence spectroscopy with fluorescence polarization capability and UV-Visible differential scanning spectroscopy. A new analytical ultracentrifuge (Beckman XL-I), micro calorimeters (MicroCal VP-DSC and isothermal titration calorimeter), and a surface plasmon resonance instrument (Biacore 3000) enhance studies of macromolecule interactions and folding properties.
The department has equipment and technical capability for gene cloning (supported by polymerase-chain reaction capabilities) and all varieties of electrophoresis experiments. For preparative procedures the department has multiple ultracentrifuges, high pressure liquid chromatographs, and facilities for both anaerobic enzyme preparations and large scale preparations of subcellular organelles. The department has several cold rooms, animal cell culture facilities, instrument rooms, and dark rooms. Facilities are available for housing animals and growing plants year-round. Analytical instruments include scintillation counters, gamma counters, scanning spectrophotometers, and absorbance, fluorescence, and electrochemical detection for analysis of samples separated by HPLC.
The university Biotechnology Core/Proteomics Facility is housed within the Department of Biochemistry and Molecular Biophysics and provides both instruments and expertise for mass spectometry of biopolymers, oligonucleotide synthesis, peptide synthesis and gas-phase peptide sequencing. High resolution purification of peptides and synthesis of peptides containing non-natural amino acids are areas of special interest.
A plant transformation center, centrally supported and housed in Throckmorton Plant Sciences Complex, is regularly used by graduate group members. Greenhouse space there is used to grow transformed crop plants.
Additional facilities are also available on campus: DNA sequencing, fluorescence-activated cell sorting, electron microscopy (transmission and scanning), quasi-elastic light scattering, GLC-mass spectrometry, emission spectrometry, Fourier-transform infrared spectrometry, atomic absorption and stopped flow kinetics. Parallel computing, mini super-computers, and ethernet and internet networks are available throughout the campus.