Hageman Lecturer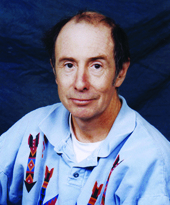 Dr. Bruce Hammock
Department of Entomology
University of California, Davis
October 29-30, 2003
Lecture: "The 'Juvenile Hormone' of Humans: Biochemistry of epoxyeicosanoids and thier role in disease treatment"
Colloquium: "Potential and Problems with Recombinant Baculoviruses in Insect Control"
About the speaker
Bruce D. Hammock has long had interests in insects and insecticides, and their interactions with humans. In addition he has studied a number of reactions which have similarities in humans and insects. He obtained a B.S. in Entomology at LSU. His PhD degree from the University of CA-Berkeley included work in both entomology and toxicology. Now a Professor of Entomology at UC-Davis, he was recognized for his original approaches by election to the National Academy of Sciences in 1999. A large portion of his work has focused on finding improved pest control agents; determining human health effects of pesticides, food additives and drugs; and rapid methods of analysis, particularly immunochemical methods. His work has resulted in over 500 publications.
Immunochemical methods to detect pesticides, food contaminants and other foreign substances have been pioneered by his research group. Substances measured by ELISA or related techniques include herbicides such as atrazine, triazoles, nitrophenols, bromacil, pyrethrins, organophosphates, thiocarbamates, arylureas, dioxins and many derivitives of these and other substances. Immunoassays are rapid and specific, making extensive testing programs more affordable. Rapid, low-cost detection of toxins and their metabolites is an important advance in public health.
Professor Hammock is recipient of numerous awards and recognitions. These include the Frasch and Spencer Awards of the ACS, and the Alexander von Humboldt Award in recognition of most significant advances in U.S. agriculture during the previous five-year period. He has also received numerous international fellowships for research in France, Australia and England.
This year's Hageman lecture deals with the 'Juvenile Hormone' of humans. Understanding the biochemistry of epoxyeicosanoids has important impact on effective treatment of conditions in which their levels are altered. The epoxyeicosanoids are reactive and typically are converted to diols by epoxide hydrolase.
Epoxide hydrolase isoenzymes are essential in processing of many different epoxides that arise spontaneously or enzymatically during oxidation of unsaturated compounds. Many pathways for metabolism of xenobiotics result in epoxides, and compounds as diverse as juvenile hormone and oxidized fats are acted on to produce inactive or toxic metabolites. Regulation of the hydolase activity may produce a diverse range of effects; design of effective and selective inhibitors is a challenging process.
Many chemicals have been used to control insects rather non-specifically. Improved pest control agents would include those that are highly target-specific such as species-specific baculoviruses. These can be modified through recombinant DNA techniques. However environmental release of recombinant DNA involves potential regulatory considerations. The colloquium discussion will deal with various aspects of baculovirus use in insect control.