Hageman Lecturer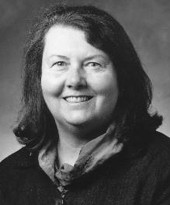 Dr. Virginia Walbot
Department of Biology
Stanford University
April 30-May 1, 2001
Lecture: "Red, Purple and Blue - How Plants Show Their Colors"
Colloquium: "Maize Gene Discovery with ESTs and Mu Transposon Tagging"
About the speaker
As a lover of striped flowers from an early age, Virginia Walbot was drawn to the intricacies of the striped and speckled seeds of Indian corn. A large fraction of her nearly 200 publications deal with maize and the colorful Bronze-2 gene (Bz-2), encoding a glutathione-S-transferase involved in the last step of anthocyanin pigmentation. This is one of a family of enzymes essential for sequestering many compounds in vacuoles.
With a B.A. in biology from Stanford, Dr. Walbot worked with Ian Sussex at Yale on molecular aspects of plant embryogenesis for M. Phil. and Ph. D. degrees. After a postdoctoral period at the University of Georgia with Leon Dure, she was a faculty member at Washington University in St. Louis before returning to Stanford where she is a professor in the Department of Biological Sciences. She began working with maize while in Missouri, collaborating with Ed Coe at the University of Missouri and spending time with Barbara McClintock at Cold Spring Harbor. Dr. Walbot is an Adjunct Progessor of Agronomy at the University of Missouri and a nonresident Fellow of the Noble Foundation (Ardmore, OK) in addition to her position at Stanford. She has served on editorial boards of a number of journals, most notably as Associate Editor of Annual Review of Plant Physiology and Plant Molecular Biology for 16 years. She is active in a number of societies including the American Society for Cell Biology, AAAS, AIBS, Genetics Society, and International Society for Plant Molecular Biology.
A broad theme of Dr. Walbot's research is the interplay of environment and development in the life cycle of plants. A transposable element, Mutator, is responsive to the developmental stage of the plant and to UV-B exposure and can be used to monitor the influence of environment on the pace of genetic change. Regulation of the excision and transposition of Mu elements appears to be controlled at the post-transcriptional level and efforts are directed to pin down the details of the responsible processes. One particular construct allows rescue by plasmids to produce RescueMu elements.
RescueMu elements provide a foundation for a ten laboratory consortium funded by NSF as the Maize Gene Discovery Project with Dr. Walbot as PI. Her lab has sequenced ~80,000 ESTs. By sequencing Mu insert sites, preferentially found in traditional genes, 30,000 tagged maize genes should be obtained within two years.
Much of the developmental work in Dr. Walbot's laboratory uses the Bz-2 locus to report the activity of Mu elements. Color patterns help deduce the developmental fate of lineages of cells to see when Mu inserts into and excises from genes. A surprising biochemical finding is that glutathione-S-transferase serves as a facilitator for the last step of anthocyanin biosynthesis by delivering anthocyanin to a specific tonoplant pump. Only when it is sequestered in the vacuole does the anthocyanin yield its usual color. Some phytoalexins, disease resistance substances, are similar to anthocyanins and are similarly transported. A functional Bz-2 gene in a dicot species indicates that anthocyanin synthesis is an ancient process.